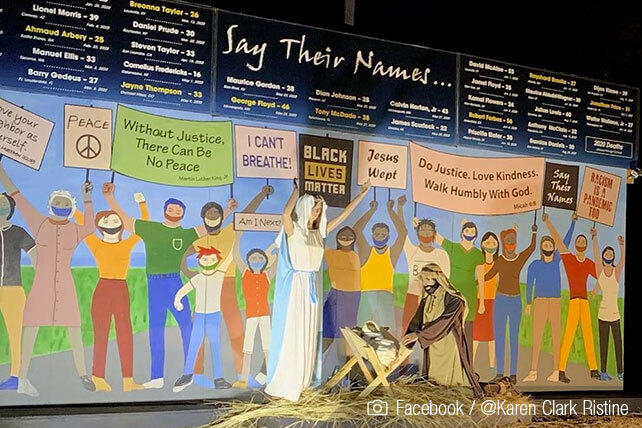 Continuing its tradition of statement-making Nativity scenes, a California church is displaying a mural of "Black Lives Matter" protesters behind the holy family. Claremont United Methodist Church, known for its hot-button Christmas displays, says the "centuries-old issue" of racism was the obvious choice for 2020.
Claremont United Methodist Church Calls Racism 'worst epidemic'
Claremont United Methodist Church's mural features mask-wearing protesters of all skin colors holding signs with messages about equality. Some feature Bible verses, including "Jesus wept" (John 11:35). Above the protesters is a "Say Their Names" sign listing 30 Black people who were killed, from Emmett Till in 1955 to George Floyd in May. In front of the mural are statues of Mary, standing with upraised arms, and Joseph, kneeling beside baby Jesus in a manger.
The scene is the brainchild of Claremont's Creative Peacemaking committee, which begins planning for Advent each spring. Genaro Cordova, the church's facilities engineer, spent two months building this year's display. Although 2020 provided many thematic options, he says, the decision was clear. "We thought that racism was really worse, the worst epidemic that maybe we had around the world," Cordova tells the Los Angeles Times. "COVID is going to pass, but the struggle [of] our brothers and sisters, Black Americans, is going to continue for a long time."
The Rev. Karen Clark Ristine, senior pastor at Claremont United Methodist Church, says, "We couldn't think of any other issue that we wanted to keep under the light of the Bethlehem star than the need to address racism." Because health issues prevented many church members from marching in racial-justice protests during the pandemic, she says, the Nativity scene lets them participate another way. "We don't want the need for continuing conversation of racism and white supremacy to get lost in news cycles," the pastor adds, "This is a centuries-old issue that we need to keep wrestling with."
Past Scenes Spotlighted Immigration, Homelessness
Last year, Claremont's Nativity scene featured members of the holy family in separate cages, symbolizing immigrants detained at the U.S. border. Other displays have depicted Jesus' mother as homeless as well as the shooting of Black teenager Trayvon Martin. "This faith community kind of leads with justice," says Pastor Ristine. "This is a very important public art statement for them every year."
Local residents tend to be vocal about the display, according to the pastor, with feedback usually split "50/50." Voicemails left for the church this year express disappointment about the "volatile" Nativity scene as well as thanks for showcasing victims' names "so that everybody remembers."
In a theological statement about this year's scene, the church writes, "We affirm and join the call for justice and equity by the Black Lives Matter movement to ensure that Black lives matter as much as any other life. Our faith in Christ challenges us to stand with Mary in her call for justice for the poor, the marginalized, and the oppressed."
On Facebook, a photo of this year's display is captioned, "Mary knows the sorrow of any parent who has ever lost a child, and she stands in solidarity with all who seek justice. #Magnificat #ClaremontNativity #SayTheirNames #BlackLivesMatter #SayEveryName.