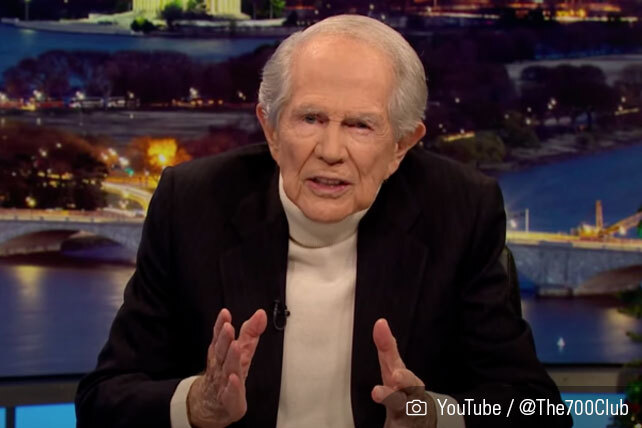 Televangelist and Trump supporter Pat Robertson says he believes President Trump's efforts to dispute this year's presidential election results are "all over." Additionally, Robertson said he thinks Trump running for reelection in 2024 would be a "mistake."
"I think we're going to see a President Biden and I also think we'll be seeing a President Kamala Harris not too long after the inauguration of President Biden," Robertson said Monday on The 700 Club. 
Robertson, who prophesied that Trump would win a second term back in October, emphasized his prediction about Harris rising to the highest office in the land is not "anything particularly from the Lord; this is my own opinion."
While he admits he had hoped "for some better solution" to President Trump's yet-to-be-proven claims of widespread voter fraud,  Robertson said that since the Electoral College has voted and declared Joe Biden the winner, he thinks Trump's hopes of overturning the election results are futile. "I don't think the Supreme Court is going to move to do anything," Robertson added.
Trump Is a 'Mixed Bag'
Trump has already implied he will try running again in 2024. Robertson called such an effort "a sideshow" and "a mistake." Instead, Robertson said he thinks Nikki Haley, former U.S. Ambassador to the United Nations, would be a better bet: "I think she'd make a tremendous candidate for the Republican Party."
Robertson also said that the President "lives in an alternate reality. People say he lies about "this, that, and the other," Robertson explains, but insists the president isn't lying. "To him, that's the truth." 
The televangelist mentioned a handful of things Trump has said that "really aren't true," such as how big the crowd was at his inauguration, that he saved NBC with his "Apprentice" show, and that he's the most popular president. While Robertson says he does believe God placed Trump in the Oval Office and praised the president for doing a "marvelous job" with the economy, at the same time Robertson pointed out some of the president's flaws. "He is very erratic and he's fired people and he's fought people and he's insulted people and he keeps going down the line, so it's a mixed bag," he concluded. 
For this reason, Robertson believes "It would be well to say 'You've had your day and it's time to move on.'" 
That's not to say Robertson is thrilled about a Biden-Harris administration.
"I think Biden is not capable of handling the stuff that's going to be thrown at him," Robertson explained. He then talked about China potentially invading Taiwan and Iran giving the U.S. military trouble in the Straights of Hormuz.  Robertson believes challenges from China and Iran will be "too much" for Biden to handle. 
Additionally, Robertson said he is very concerned about a shift toward socialism he believes the country is headed toward, thanks to leaders like Bernie Sanders. "It would be terrible to see this country go into some type of socialist decline," he noted.
You can watch Robertson's full comments here.