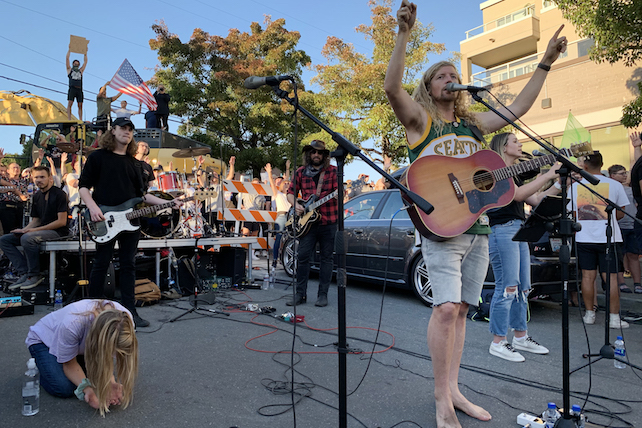 LOS ANGELES (RNS) — Advocates for the residents of LA's Skid Row neighborhood are organizing against a planned appearance by Christian recording artist Sean Feucht in the community, which has one of the highest rates of homelessness in the country.
"They have a reputation of basically drawing tons of unmasked people where they go. If that's the case, we have to protect our community," said pastor Stephen "Cue" Jn-Marie, who founded the faith community known as The Row, or "The Church Without Walls," in Skid Row.
Feucht's Dec. 30-31 events in Echo Park and Skid Row, a 54-block area of downtown, are part of his national "Let Us Worship" tour that protests COVID-19 restrictions. The two days of outreach will culminate with a New Year's Eve celebration from 9 p.m. to midnight at the parking lot of Higher Vision Church in the city of Valencia, more than 30 miles away.
The tour, which Feucht refers to as the #letusworship movement, has been criticized by health officials and faith leaders alike for drawing thousands of spectators and worshippers, many ignoring social distancing guidelines and health orders requiring masks.
The New Year's Eve celebration had initially been planned for the nearby Azusa Street Mission, the site of a revival meeting in the early 1900s that is recognized as the origin of modern Pentecostalism. It was unclear why the event was relocated. Feucht, Azusa Street and Higher Vision Church representatives were not reached for comment.
Other events held in Seattle; Nashville, Tennessee; Washington, D.C.; and other U.S. cities have also met with opposition by local authorities and scattered counterprotests.
Feucht's New Year's Eve events come as Los Angeles County is experiencing a surge in COVID-19 cases and deaths and as available hospital beds dwindle. If disease transmission remains the same, the county health department projects 700 to 1,400 new hospitalized patients a day by New Year's Eve, according to the Los Angeles Times.
Jn-Marie said he sent Feucht a Facebook message on Monday (Dec. 21) to express concern about his plans to visit Skid Row. As of Tuesday morning, Feucht had not responded, Jn-Marie said.
"Skid Row is one of the most vulnerable communities in the nation," Jn-Marie said. "It's also a community with housed folks as well as gatekeepers."
If Feucht does not respond, Jn-Marie said, he and other advocates plan to stage a car rally to prevent unmasked people from entering Skid Row.
Since the beginning of the pandemic, Jn-Marie said, homeless advocates have taken the necessary precautions to minimize COVID-19 outbreaks in the community.
Jn-Marie said they've created hand-washing stations, provided hygiene products and doubled down on promoting mask-wearing. While the community welcomes food, clothing, hygiene items and any other assistance, Jn-Marie said, Skid Row doesn't need "people to come in for a photo op."
"We've worked to keep the community safe," he said.
The Row has hosted Friday worship services in Skid Row for more than 10 years. That changed with COVID-19. While The Row continued to help feed residents, it stopped congregating for Friday worship. It has since resumed services, with social distancing and mask-wearing guidelines in place.
To  Jn-Marie, there's a "miseducation of the church" among those who believe they are being persecuted by health orders in place to limit the spread of COVID-19, which has so far killed more than 300,000 people in the United States.
When people protest wearing masks that could potentially save lives, "we know that's not God," Jn-Marie said.
Jn-Marie referred to the people involved in the effort against Feucht as the "Deacons for Justice," a reference to an armed self-defense organization to protect civil rights workers.
They won't be armed with weapons, but "with the spirit of God," Jn-Marie said.
---
This article originally appeared on ReligionNews.com.