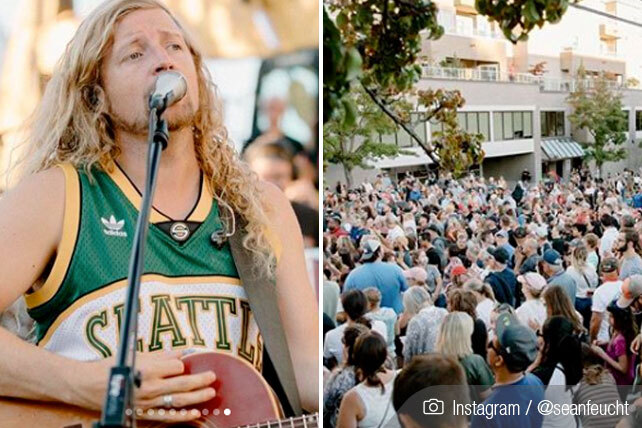 Bethel worship leader Sean Feucht had to adapt his plans to hold a worship event at Seattle's Gas Works Park on Labor Day when the city temporarily closed the park "due to anticipated crowding." Feucht accused city leaders of targeting Christians while ignoring rioters. Meanwhile, the Seattle Police Department (SPD) arrested 22 protestors Monday "on suspicion of assault, arson, obstructing and failure to disperse."
"We made it to Seattle, and unfortunately, the city decided to barricade the entire park for our peaceful worship and prayer gathering," said Feucht in a post ahead of Monday's event. "So we decided we're going to move into the street, and we're calling it a worship protest…It's going to be epic!"
We're calling tonight a "Worship Protest" for legal reasons. 🤣

See ya in the streets next to GasWorks Park!

Live on Facebook at 6pm!

Already so many people here next to this bulldozer. Tonight could get a little wild 🤣🙌🏼🔥#LetUsWorship pic.twitter.com/VvqmAh3VyS

— Sean Feucht (@seanfeucht) September 7, 2020
On Sept. 4, Seattle Parks and Recreation issued a statement saying, 
Gas Works Park will be closed all day September 7 due to anticipated crowding that could impact the public health of residents. Out of concerns for the safety of all those who visit Gas Works Park we have opted to close the entire park for the day. Seattle Parks and Recreation does not allow unpermitted public events to take place in Seattle parks and asks the public continue to adhere to current public health guidelines so that we can keep our parks open. As first amendment gatherings have taken place during the pandemic, the City of Seattle continues to reinforce the Governor's guidelines should folks choose to attend an event: stay home if sick, wear your mask, and keep at least six feet of space between yourself and others.
In a post on Facebook the next day, Feucht wrote, "This is the height of hypocrisy for the city of Seattle to turn a blind eye to riots, looting, and AntiFa, while refusing to let Christians gather in a public park to sing and worship. First the government shuts down churches. Now it's shutting down parks to stop us from worshipping. Time to stand up church!" 
Sean Feucht is a worship leader and political activist who has been holding outdoor services throughout the U.S., repeatedly defying local guidelines for large gatherings. He sees what he is doing as a second "Jesus People Movement" and believes the government has no constitutional right to stop these services. Attendees often do not wear masks or practice social distancing. Feucht held one of these events on Sept. 5 in front of the state capitol building in Sacramento, California, a gathering he says 12,000 people attended.
Official Capitol Hill police estimate was 12,000 tonight in Sacramento!!! 😭😭😭😭

GOD IS NOT DONE WITH CALIFORNIA!!!#LetUsWorship pic.twitter.com/4sRGwbQbIl

— Sean Feucht (@seanfeucht) September 7, 2020
Prior to the service, Feucht said that people would be coming from all across the nation and that his team would have to block off a few streets for it. 
Monday afternoon before holding his worship protest in Seattle, Feucht posted footage of homeless camps and tweeted, "The city of Seattle is leaving the park open for homeless camps, but trying to shut it down to tax paying Christians? That's un- American! Let's bring praise and worship to the homeless residents of gas works park and the rest of Seattle tonight! See ya soon!"
The Seattle Times reports that hundreds of "mostly maskless worshippers" turned up for the gathering, which was held on a street next to the temporarily closed park. One attendee expressed her appreciation for the event, saying, "People need hope, especially right now during the craziness of life. The government is not going to give you hope, seemingly. Jesus is the answer."