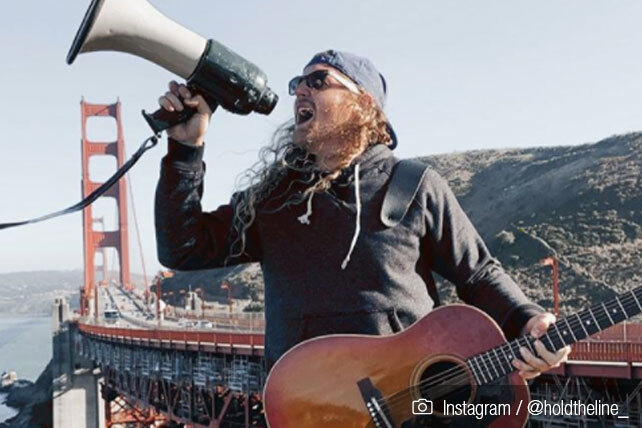 Bethel worship leader Sean Feucht is blending political activism with worship by holding outdoor worship gatherings throughout the U.S. in response to government regulations implemented because of COVID-19. Feucht has also created a "Let Us Worship" pledge, which thousands have signed and which he presented to members of Congress Monday. 
"Our freedom to worship God and obey His Word has come under unprecedented attack," wrote Sean Feucht in a statement about the Let Us Worship pledge. "Powerful politicians and social media giants have engaged in unchartered abuses of religious liberty, silencing the faithful, banning our voices, and outright attacking our God-given right to declare His goodness…It's time for the Church to rise up with one voice and tell our government leaders and the rulers of big tech that we refuse to be silenced!"
On Instagram Monday, Feucht announced he was heading to Washington D.C. and asked viewers for prayer. "Today I'm going to be meeting with some senators, legislators, we're going to present our Let Us Worship pledge," he said.
Sean Feucht Responds to CA Singing Ban
On July 1 California Governor Gavin Newsom sparked outrage from many believers when he issued an order temporarily banning singing in church. Sean Feucht responded in a video he filmed July 3, describing the shock he felt when he heard the news about Newsom's order. "How insane is that," he said, "that for the last several weeks, tens of thousands of people have been gathering outdoors in cities all across California, and they have been screaming and chanting and protesting, and all the while, the state officials are encouraging them as they do this." 
It is worth noting that at a press conference the day after the governor's order, while admitting his administration is not widely enforcing COVID-19 precautions at protests, Newsom did ask protestors to consider the impact their actions could have on those around them. "Look, we're not going to everybody's backyard and enforcing," he said. "Consider others. That could be your mother, it could be your grandmother, it could be someone you deeply love."
Nevertheless, Feucht argues that for the government to treat protestors this way while banning Christians from singing in church is to disregard believers' Constitutional rights and religious beliefs. That is why he decided to challenge political leaders by creating the Let Us Worship pledge: "It really is time, guys, that we take a stand and fight back."
The pledge is also a challenge to leaders of big tech companies. Shortly before Newson issued the singing ban, Feucht had been speaking out against social media giants Instagram and Twitter. The worship leader claims that Instagram censored videos of him leading public worship and that Twitter censored Bethel leader Beni Johnson for posting Bible verses. "Never thought I'd see the day where my WORSHIP VIDEOS on Instagram would be deemed 'harmful & false information,'" said Feucht.
Feucht concluded his video on the Let Us Worship pledge by addressing Newsom directly and quoting Moses' words to pharaoh in Exodus 8:1: "This is what the LORD says: Let my people go, so that they may worship me."
"We are going to keep worshiping," said Feucht. "We are going to keep singing."
And that is exactly what the worship leader has been doing in the weeks following California's ban. Feucht led a worship service at the Golden Gate Bridge attended by 300 to 400 people and also participated in a revival at Huntington Beach, California, which was attended by 1,000.
Feucht took his services to the East Coast this past weekend with gatherings in Connecticut, New York, and New Jersey. On his social accounts, the worship leader has celebrated the fact that during the various gatherings people have been baptized, rededicated their lives to Christ, and been saved from committing suicide. 
The Let Us Worship pledge and Feucht's "worship protests" are associated with Hold the Line, a movement the worship leader founded this year after losing his campaign to represent California's 3rd Congressional District in the U.S. House. Feucht told The Daily Signal he was surprised by the amount of momentum he gained through his run for office and decided to use that energy to found a new movement. Hold the Line seeks "to engage with the church and with millennials in a way that charges them to become more politically active" by registering them to vote, educating them, and mobilizing them for political causes.
Feucht sees these recent worship events as akin to the Jesus People Movement of the 60s and 70s. "It's eerily similar," he told Fox News. "There were protests, racial and social strife. Hippies were getting saved. A movement happened in California and swept across America, and even major news outlets covered it."
The worship leader is back holding events in California this week, with additional gatherings planned for Arkansas, Oklahoma, and Texas.