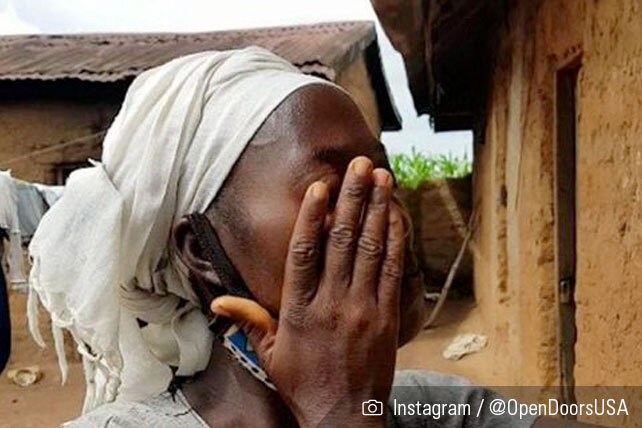 In its newly released 2021 World Watch List, Open Doors USA paints a picture of escalating religious persecution throughout the globe. The watchdog group reports a 60 percent increase in the number of Christians killed for their faith, noting that COVID-19 restrictions have made many bad situations "unbearable."
Open Doors president and CEO David Curry, who once called 2015 the "worst year in modern history for Christian persecution," now says, "I'm afraid I could repeat that same statement" about 2020. An estimated one in eight Christians worldwide faces faith-based persecution.
Every year, Open Doors reveals the top 50 countries where it is most dangerous to be a Christian. On the new list, all 50 have very high or extreme levels of persecution, a trend Curry expects to grow due to the rise of religious extremism.
For the 20th straight time, North Korea tops the World Watch List. The rest of the top 10, most of which have remained there for years, are Afghanistan, Somalia, Libya, Pakistan, Eritrea, Yemen, Iran, Nigeria, and India.
COVID-19 Is Used as a Cover
Anti-religious bigotry and violence increased during 2020 partly due to the pandemic, says Curry. "This public health crisis created an opportunity to expand faith-based discrimination and violence in regions where religious persecution has already reached alarming rates."
In India, for example, 80 percent of the Christians who sought assistance from Open Doors' partner organizations said other places had turned them away due to their faith. In Northeast Nigeria, Christians indicate receiving only 15 percent of the standard emergency rations.
Pandemic-related job loss is another subtle form of faith-based discrimination. After being laid off due to coronavirus lockdowns, some Christians are simply never rehired. "We've definitely seen that both extremists and governments are taking advantage of or using this opportunity to justify an increase in persecution," Curry says. When COVID-19 restrictions weaken governments, extremists know "they can steal food and medical supplies from already embattled Christian communities around the world."
Although people throughout the globe have suffered from the pandemic, "for some their faith has made them more vulnerable," according to Open Doors. "The clear discrimination and oppression suffered by Christians in 2020 must not be forgotten, even after the COVID-19 crisis fades into our collective memory."
Surveillance Tech Is on the Rise
Another trend noted in the 2021 World Watch List is a growing use of high-tech censorship. This is especially prevalent in China, which—now at #17—is back in the top 20 for the first time in a decade. In addition to increased Sinicization of their faith, Christians in China endure surveillance and tracking systems that have become normalized. Other religious minorities, including Uyghur Muslims, also are targeted.
Chris Meserole, research director at the Brookings Artificial Intelligence & Emerging Technology Initiative, says, "This goes beyond where you're going to church or where you're going to temple, to what it is you're writing about on your phone. There's no country that can match the sheer scale of surveillance technologies that China has developed and also deployed."
The Chinese Communist Party also is exporting these technologies to other authoritarian regimes.