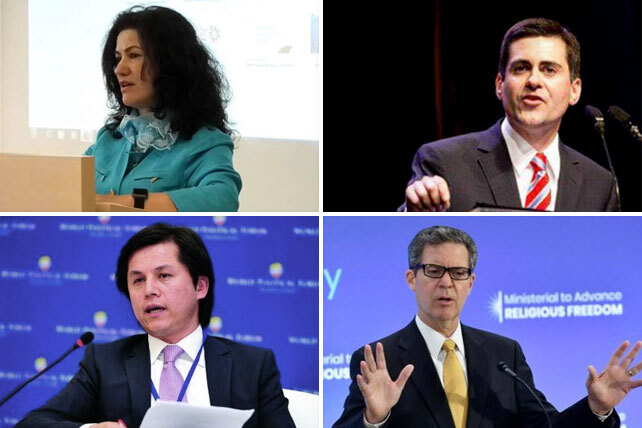 Many Americans do not realize the threat the Chinese Communist Party (CCP) poses not only to its own citizens but also to the rest of the world. The Chinese government is currently committing genocide against the Uyghur people, and as it commits various atrocities against that people group, the CCP is developing a blueprint for what dictatorial oppression will look like in the future. 
"What you're seeing take place now, in my estimation, toward Uyghur Muslims is the cutting edge of religious persecution," said Samuel D. Brownback, the U.S. Ambassador at Large for International Religious Freedom. Brownback—whose opinion is shared by Open Doors president and CEO David Curry—participated in a webinar Friday organized by the Ethics & Religious Liberty Commission (ERLC), the purpose of which was to shed light on China's human rights violations and to offer action steps to believers and church leaders.
ERLC Vice President for Public Policy Travis Wussow moderated the webinar. In addition to Brownback, webinar panelists included Rushan Abbas, Founder and Executive Director of the Campaign for Uyghurs; USCIRF Commissioner Nury Turkel, and ERLC president Dr. Russell D. Moore.
A chilling video went viral recently, showing Uyghur Muslims being escorted off a train and headed to forced labor camps. It is a scene that calls the Holocaust to mind.
What you're watching is Uigher Muslims escorted off of trains headed off to forced labor camps. All of their heads are shaved. A second holocaust is happening right now, in the age of technology, and we are mostly silent.pic.twitter.com/F83ZUMEeEV

— Griffin Gulledge (@griffingulledge) July 15, 2020
The CCP has put at least a million (and possibly double that) Uyghurs into "re-education camps" in the Xinjiang Uyghur Autonomous Region (XUAR) under the claim of preventing terrorism. In these camps, Uyghur people are brainwashed and tortured. The government is using advanced technology to carry out its aims, and NPR reports the party secretary over the area has "transformed the region into one of the world's most tightly controlled police states." 
The oppression of the Uyghurs is one that all believers, church leaders, and anyone who values human rights should care about. Said Dr. Moore, "I think we're dealing with very high ambitions towards evil ends here, which means we cannot have low ambitions for speaking to human ideals from the other side." 
What Is Happening to the Uyghur People
The panelists began by giving an overview of how the Chinese government is oppressing the Uyghurs. Brownback explained the CCP is using concentration camps, surveillance cameras, genetic data collection, and facial recognition systems. The government is using highly advanced technology, to the effect that "they could theoretically now close all the concentration camps and you would still live in a virtual police state." Brownback believes that, because of the CCP's reliance on technology, what party leaders are doing is the "future of oppression." It was his opinion, as well as that of the other panelists, that if the rest of the world does not take a stand against China, the country's leaders are indeed paving the way for a second Holocaust. "That is a threat to all of us, and we really need to aggressively push back," said Brownback.
He said that the sanctions the U.S. has imposed on China have been very important because economic pressure is the only tactic that will get the attention of party leaders. Brownback said he would like to see other countries throughout the world join the U.S. in applying such financial pressure, and he noted he was pleased when the U.K. banned Chinese tech company Huawei. "These sanctions are important to do," he said. "It's tying economic issues with human rights issues."
Turkel, who was born in a re-education camp at height of the Cultural Revolution and is the first U.S.-educated Uyghur lawyer, emphasized that the global supply chain is polluted by the fact that the Chinese government is employing forced labor. "Forced labor has been part of Uyghur life as long as I've been breathing," he said. 
The Uyghur people are being forced to work on irrigation constructions and textiles, as well as in cotton fields. Buying anything with a "Made in China" tag should give Americans pause, said Turkel. At one point, he learned of baby pajamas that were made in China that were being sold in Costco. He was seriously disturbed by the thought he might buy clothing for his children made through the slave labor of his fellow Uyghurs. "Please do your due diligence," he said. "Please stop buying any cotton or textile products coming from China."
What activist Rushan Abbas had to share was particularly troubling. Abbas, who is also Uyghur, said that next month will mark two years since her sister disappeared, a common story among Uyghur people. Abbas has received no information about her sister in that time period and described her as a quiet, gentle person. Her sister never spoke out against the government and her disappearance is a clear retaliation from the CCP against Abbas's activism.