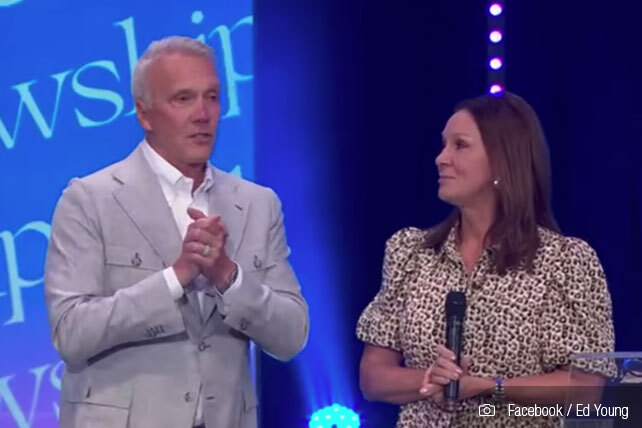 After the sudden death of their daughter, Texas megachurch pastors Ed and Lisa Young, expressed their appreciation to a standing ovation from their Fellowship Church in the Dallas/Ft. Worth area. Ed Young posted the video to his Twitter account.
"The Lord is in the fight," Ed proclaimed while Lisa stood supportively by him. "Thank you Church so much for walking with Lisa and I through this grief. For grieving with us because I know that you are. (his voice cracking with emotion). This has definitely been the most challenging and difficult time in our lives. No question losing our daughter, our precious daughter, so suddenly."
Lisa and I want to thank you for all of your prayers, support, encouragement and love. The Lord is in the fight! pic.twitter.com/9WqWPWkfXN

— Ed Young (@EdYoung) March 28, 2021
"However, because of the grace of God, the power of God," Ed continued. "Because of your prayers, support, encouragement, and love, it's been just supernatural as we've been able to walk on parallel tracks. One being, of course, deep sorrow and the other one being outrageous, contagious joy. Sounds like a book title." Both Ed and Lisa laughed.
Ed promised that they would share what they were experiencing and learning with the church in time. He said, "We've been processing that and will continue to go through that over you know this season as we teach and preach and do church here together."
He then said that today Lisa would be amazing to share a little bit about what God has been doing, and he prayed this prayer over her: "Father, thank You so much for my incredible wife (voice cracks with emotion). And I ask, God, that You speak through her and use her. And you would touch every person here and also at our other locations who are listening. In Christ's name, amen."
—————————-
January 21, 2021 – LeeBeth Young, the daughter of Texas megachurch pastors Ed and Lisa Young, passed away Monday, Jan. 18, at the age of 34. Ed Young announced the tragic news Tuesday on his social media channels.
"It is with great sadness that I write these words," said the pastor. "Last night, our precious and cherished daughter LeeBeth passed away. She was our firstborn, and we celebrate her life. LeeBeth was a bright, intelligent, strong, creative, witty, and faithful young woman. We love our daughter, and she loved the Lord. Because of her relationship with Jesus, she is now healed and whole in His presence. We ask that you pray for our family, our church, and so many others who loved LeeBeth deeply."
— Ed Young (@EdYoung) January 19, 2021
Celebrating the Life of LeeBeth Young
Ed and Lisa Young are the founding pastors of Fellowship Church in the Dallas/Fort Worth area, and LeeBeth was the eldest of their four children. She was a graduate of Baylor University and served as director at Fellowship Church, according to LinkedIn. 
LeeBeth also took the stage at times at Fellowship Church. In August 2013, she joined her parents onstage to discuss the challenges of raising a family. In March 2018, she delivered a Sunday morning sermon. In a pre-recorded video introducing his daughter before she gave her message, Ed Young said, "I love LeeBeth to death as any father would love their daughter. She's funny, she's insightful." He then asked everyone to give her a standing ovation and welcome her as their teacher.
LeeBeth began her sermon by saying that she wanted to honor her parents, who had moved to Grapevine, Texas, to start Fellowship Church when she was three years old. "I just look back on my life," she said, "It's probably the greatest honor in my life, just being able to have courtside seats to all the growth and all the life change God has done through this great church. So I'm very fortunate to be here. And yeah, my parents are incredible leaders, as you know, but they're even better parents." 
LeeBeth's Instagram feed contains many posts of her friends and family. In one, she said of her mom, "She has and continues to model a deep faith, a love for her family and passion for the local church… ❤️ you mom!" In a post on her dad's birthday in 2018, LeeBeth said, "Happy Birthday to the greatest man I have ever known…I love you so much Dad!" 
Gary Thomas, Beth Moore, Kay Warren, David Kinnaman and Derwin Gray are among the many who have expressed their condolences and support for the Young family. The Youngs have not revealed the cause of LeeBeth's death.
A service will be held to celebrate the life of LeeBeth Young this Saturday, Jan. 23, at 12 p.m. It will take place at Fellowship Church Grapevine, and those unable to attend in person can watch the service on the church's website. 
Join us as we celebrate our daughter, LeeBeth Young. Service to be held Saturday, January 23 at 12:00 pm, Fellowship Church Grapevine.

If you are unable to attend in person, there will be an online option at https://t.co/PWTgwVaIcn pic.twitter.com/mEgf1Zu3lL

— Ed Young (@EdYoung) January 21, 2021