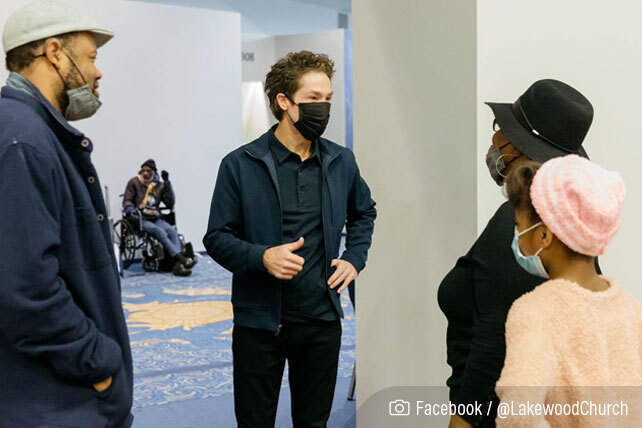 Lakewood Church in Houston, Texas, is functioning as a warming center as millions of people in the state are dealing with power outages due to last weekend's extreme winter weather. Texas experienced record-breaking temperatures, with major cities seeing lows that were colder than Anchorage, Alaska, on Monday.
"You know, as soon as we heard this storm was going to be a huge storm, we knew that we were in position to help," said Lakewood Church's pastor, Joel Osteen. "We care about the city, we care about our neighbors and so we feel blessed to be able to open the building, provide warmth and shelter."
Lakewood Church Open to Any in Need
On Friday, Feb. 12, Texas Gov. Greg Abbott issued a disaster declaration for all of the state's 254 counties. Sunday brought snow, freezing rain, and dangerous wind chills to various parts of the Lone Star State. The Texas Tribune reports that the massive power outages started early Monday morning. As of this writing, nearly over 2.7 million households are still without power. 
Warming centers like Lakewood's could mean the difference between life and death for people. Numerous reports tell of families in Texas huddling in their homes under blankets trying to stay warm. At least 17 deaths in the state have been connected to the winter storm so far, many of them the result of carbon monoxide poisoning as people seek alternative sources of heat. 
The Electric Reliability Council of Texas (ERCOT) has come under sharp criticism for the power outages, including from Abbott, who called the situation "unacceptable." The governor has claimed that ERCOT is withholding information and that the organization has not explained why it did not have backup energy even though it knew about the extreme weather ahead of time. 
Lakewood Church, one of many churches in Texas providing a warming center, opened its doors on Sunday and is working with homeless organizations in the area, as well as with the Harris County Sheriff's Office to provide various provisions for people. These include blankets, beds, and a hot meal. A spokesperson for Lakewood Church told the Christian Post that anyone in need is welcome. People seeking shelter at the church are instructed to arrive at the Edloe or Norfolk entrances. 
Osteen said Lakewood Church is following COVID-19 safety precautions. There is plenty of room for people to spread out in the 600,000 square foot facility, and there are sanitizer stations throughout the building. Staff and volunteers are screening people as they arrive and are providing masks when needed. 
Over one million people are still without power in Houston. Today Mayor Sylvester Turner said, "Power will not be restored fully, I would say, probably for another couple days." As the state struggles to recover from last weekend's weather, more snow and freezing rain is forecast to hit Texas Wednesday and Thursday. The National Weather Service has issued a Winter Storm Warning for multiple counties in the state, including Houston's. 
Joel Osteen, who is often accused of being a self-help preacher who avoids the more uncomfortable Christian doctrines, was widely criticized in 2017 for not immediately opening Lakewood to people displaced by Hurricane Harvey. Osteen, however, said that the church was not open at first because of flooding in the building, and Lakewood did later receive evacuees. 
Regarding this latest crisis, Osteen praised Lakewood Church's volunteers, saying, "They love helping other people. So I believe we're blessed to be a blessing and God's given us this beautiful facility where we can help people (with) simple things to stay warm and have a place to stay."