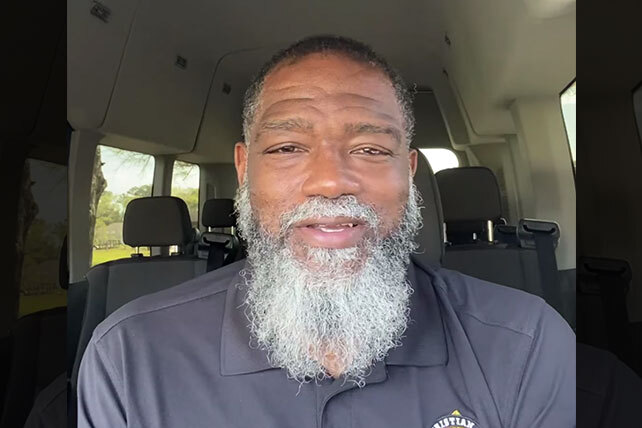 UPDATED April 8, 2021: Tom Ascol let his followers know on Twitter that Voddie Baucham had a successful quadruple bypass surgery on Tuesday.
Ascol thanked everyone for their prayers and shared that he was awake and responsive soon the morning after the surgery. Baucham was released from ICU on Thursday and started some mild physical therapy.
The Founder Ministries President also asked for continued prayers Tweeting, "Please pray for his continued improvement, that his pain would diminish, & that the Lord would continue to strengthen & encourage his wife and children."
---
UPDATED April 5, 2021: Founders Ministries President Tom Ascol posted on Facebook that well-known preacher Voddie Baucham is scheduled for open heart surgery today at 2:30 PM EST (April 5, 2021). Surgery was scheduled after Baucham received what he had hoped would be his final test from his successful March 2021 heart surgery, but doctors at the Jacksonville Florida Mayo Clinic discovered another blockage.
Ascol said that Voddie and his wife Bridgett are "full of faith and hope" as they process this new trial and navigate a new set of plans. He and his family were hopeful Baucham would be released to begin a two-week book tour to promote his upcoming book Fault Lines: The Social Justice Movement and Evangelicalism's Looming Catastrophe Hardcover.
The Christian Post reported that Baucham had to cancel an interview they had scheduled for this week due to the unexpected surgery. They posted what a Voddie Baucham spokesperson said regarding the cancellation:
"While preparing to embark on a two-week book tour for the national launch of Fault Lines, doctors at the Mayo Clinic this week discovered another blockage in Voddie's heart. It was determined that he must have another procedure this weekend to deal with the blockage. Please pray for Voddie and his doctors as he undergoes this new procedure. We expect to have the next update on his condition early next week."
In Ascol's Facebook post, he said he would provide an update after the surgery when he was able.
Please join us in praying for Voddie and his family.
---
UPDATED March 2, 2021: Dr. Voddie Baucham was released from the Mayo Clinic in Jacksonville, Florida, this past weekend after doctors completed a successful heart surgery.
Speaking from a video posted on Instagram, Baucham said "Things were better than expected, and I'm expected to make a full recovery."
Saying that he and his wife Bridget are overwhelmed by the outpouring of the love, support, and prayers from people all over the world, Baucham humorously said, "I scared her (Bridget) the other day sitting in the bed just weeping." Thinking something was wrong, Baucham explained he was reading comments from the GoFundMe campaign "and I had to stop…I was overwhelmed…so thank you, it meant more than you could possibly know."
"I wanted you to see me with your own eyes to know that things were going well," Bauchman told his followers, "I just want to say thank you."
Watch the full video message here.
---
ChurchLeaders original article written on February 23, 2021 below.
Dr. Voddie Baucham said that he had come "within an hour or so of death," while traveling to seek treatment in Florida after discovering last week that he was experiencing "full-blown heart failure." Things were so close for Baucham, he said if he had stuck to his original itinerary for his trip from Lusaka, Zambia to Florida, he would not have made it to the hospital in time.
Baucham shared the update on Instagram on Sunday, informing his followers and prayer supporters that he had safely arrived with his wife, Bridget, at the Mayo Clinic in Florida, and that their lost luggage had been found.
Due to setbacks resulting from his failing heart, and flight cancellations in Dallas, Texas brought on by freezing weather conditions, the doctor at the Mayo Clinic told him he was "in the final stages of a catastrophic event, and within an hour or so of death," when he arrived this past weekend.
The significance was not lost on Baucham. "It is impossible to deny the hand of our Sovereign God and the way he shepherded us," the minister said as he recalled the last few days of their journey. The harrowing journey included a missionary doctor in Lusaka identifying the severity of his condition, flight cancellations, itinerary changes, staff at the Mayo Clinic waiting on him to arrive, and a GoFundMe campaign that has raised over $1.3 million dollars for his medical expenses.
Letting his readers know his condition has improved, Baucham said they have "a clear, aggressive, and promising treatment plan," and that he and his wife are "resting and rejoicing in God's goodness."
Baucham has been married for 31 years to Bridget and they have nine children together. He is the the founder of Voddie Baucham Ministries (VBM), popular conference speaker, church planter, and author. He is currently serving as the Dean of Theology at African Christian University in Zambia. 
Baucham's Instagram post from Sunday reads:
We. Have. Luggage…
@americanair found our @saddlebackbags and delivered them. Praise the Lord for a burden lifted!
On the health front, I am still at the @mayoclinic and receiving care from some of the top doctors in the world in the field of heart failure.
My condition is much improved, and we have a clear, aggressive, and promising treatment plan. Bridget and I continue to marvel at the Lord's providence and rejoice in his goodness. According to the doctor that brought me in (actually, his wife picked us up and rushed us to the E.D., but that's another story for another time), I was in the final stages of a catastrophic event, and within an hour or so of death.
When we look back at the amazing work of the missionary doctor in Lusaka who stabilized me (and saved my life), the GoFundMe, canceled flights, weather delays, my vitals during the Joburg to Doha flight, a last-minute itinerary change to Jacksonville, and the fact that Mayo was expecting and waiting for me upon arrival (including the paramedic who checked me in and said, "I'm trying not to go all fan-girl right now," 😂 it is impossible to deny the hand of our Sovereign God and the way he shepherded us.
There is much more I could say and a great deal more work to be done, but we are resting and rejoicing in God's goodness. Even in the 'little' things… Like finally getting our bags! Especially when we realize that, if we had waited and taken the same journey our bags did (our original itinerary), we would not have made it to Mayo in time.