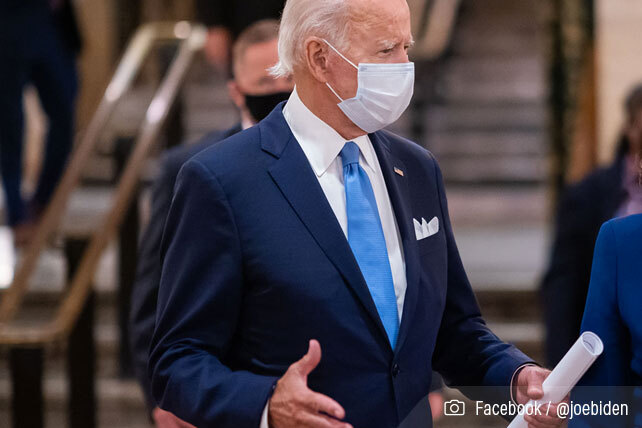 Pro-life evangelicals are not happy that the new White House administration under President Biden has included a change to taxpayer funding of abortions as part of the American Rescue Plan. The broad piece of legislation is likely to pass the House today which will put it on course for Biden to sign it into law later this week.
While many Americans enduring deep financial impacts of the Covid-19 pandemic look forward to the economic relief included in the package, there is much more to the legislation being passed by budget reconciliation. The measure taking aim at removing a statute of limitation for taxpayer dollars going toward abortions is a point of contention and the group Pro-Life Evangelicals for Biden are voicing their collective discontent.
"We are very disappointed about the Covid-19 relief package's exclusion of the Hyde Amendment, a longstanding bipartisan policy that prevents taxpayer funding for abortion. We're even more upset that the Biden administration is supporting this bill."
Who Are the Pro-Life Evangelicals for Biden?
They are a collection of evangelical Christians who risked political fallout through the polarized 2020 presidential campaign and election by declaring support for Biden. The group includes but is not limited to Richard Mouw, President emeritus of Fuller Seminary; John Huffman, board chair emeritus at Christianity Today; and Jerushah Duford, the late Billy Graham's granddaughter.
According to a short biography on Calvin University's website (where Richard Mouw is a senior research fellow), "Dr. Mouw served for many years as a panelist for the Washington Post's online forum 'On Faith.' He received the Abraham Kuyper Prize for Excellence in Reformed Theology from Princeton Theological Seminary in 2007. Dr. Mouw has also participated on many councils and editorial boards, serving a term as president of the Association of Theological Schools, spending six years as cochair of the official Reformed-Catholic Dialogue, and is a leader in interfaith theological conversations, particularly with Mormons and Jewish groups."
Christianity Today offers a glimpse of who John Huffman in this in-depth interview. The interview chronicles Huffman's relationship with Billy Graham as well as his keen interest in journalism and political activism. Huffman said, "I was deeply committed to encouraging top level theological education for Christian leaders. I knew I wanted to do something in world issues so I accepted the invitation to join the World Vision board when it came along. And my lifelong interest in journalism made joining the CT [Christianity Today] board a natural. I felt the magazine was the most responsible of the various theological journals at that time. Now my ministry outside the local church and Presbyterian denomination was targeted into my primary interests of theological education, world concerns and journalism."
Jerushah Duford, niece of Franklin Graham and granddaughter of Billy Graham, shares in her family's faith heritage while diverging from her uncle politically. In a feature published by Newsweek last year, she is quoted telling Forbes that in her joining the Lincoln Project she is, "speaking to the woman who has always voted Republican but is not sure if they can anymore, but they're also not sure how they feel about voting Democrat because they've never done it. I'm speaking to the woman who feels that tug in their spirit. We want to empathize with them that we know you feel this tug, and you feel uncomfortable voting Democrat because you never have. But at the same time, it's OK to follow your conscience."
In a statement published on the organization's website, the group explains feeling betrayed by Biden and his administration. (Read the full statement here.)
The statement claims: "As pro-life leaders in the evangelical community, we publicly supported President Biden's candidacy with the understanding that there would be engagement [with] us on the issue of abortion and particularly the Hyde Amendment. The Biden team wanted to talk to us during the campaign to gain our support, and we gave it on the condition there would be active dialogue and common ground solutions on the issue of abortion. There has been no dialogue since the campaign."
The Hyde Amendment
Originally passed in 1976, the measure is renewed yearly but its list of exceptions can be changed with each renewal. Since its passage, both those who oppose and support taxpayer funding for abortions (via Medicaid) have cited the measure's large impact on the number of abortions performed. According to the New York Times, "In a 2016 report, the Charlotte Lozier Institute, which opposes abortion, cited studies showing a 13 percent increase in births among Medicaid recipients after the amendment was enacted, and estimated that it prevented more than 60,000 abortions per year."
What If the American Rescue Plan Passes Without Hyde Amendment Renewal?
The American Rescue Plan has come under fire in Congress. As noted by USA Today last week while the package was in deliberations in the Senate, "Democrats want it passed soon, but little to no Republican members of Congress have so far voiced support." The party line division in Congress may soon make the American Rescue Plan the only stimulus package passed during the coronavirus pandemic without bipartisan support.
The broader Congressional divide aside, the Hyde Amendment's repealing is a major sticking point for many evangelical Christians of both parties. While not unreasonable that other budgetary pieces would be included in legislation being passed through budget reconciliation, the impacts of not renewing the Hyde Amendment are weighty enough for the Pro-Life Evangelicals for Biden to reconsider a place in the democratic party.
Issuing a call to action for President Biden and specific members of Congress, the group is pushing for the inclusion rather than exclusion of the Hyde Amendment language in the final version of the American Rescue Plan that is signed into law. They close their statement with, "If it is not done it will raise the question of whether or not we are still welcome in the Democratic Party."