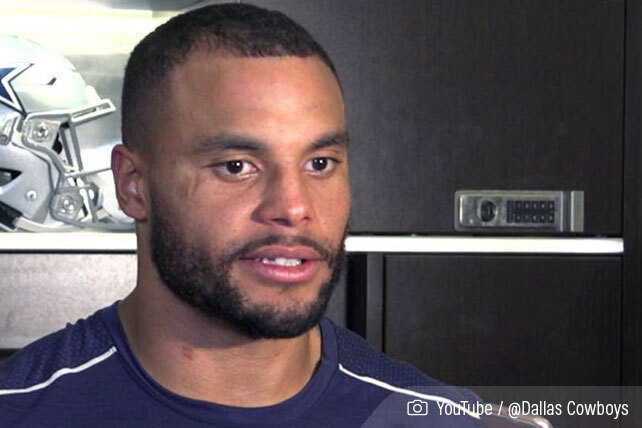 Last NFL season, Dak Prescott faced what could have been a career-ending and hobbling injury as his Dallas Cowboys faced the New York Giants. It was his friends' support and Dak's faith in God that carried him through what he saw as God's goodness and presence in this life challenge.
"Even sitting there holding my leg, trying to put it back into place…" Dak said, "that's just what God's thrown at me. If you've known my life, if you've known my story, whatever circumstance that is, I'm going to take it with a smile and be thankful that God has put me in position to overcome it to be an example to others."
Now Dak Prescott Signs $160 Million Contract
Earlier this week, Dak Prescott signed a massive $160 million contract. Prescott, often vocal about his faith, thanks God for the opportunity.
According to ESPN, the $160 million dollar deal is more than team owner and general manager Jerry Jones paid for the entire team in 1989. The fresh contract comes while Prescott is still recovering from a terrible injury he suffered during an October 2020 game against the New York Giants. When the injury happened, the stadium reportedly went quiet as medical staff wheeled Prescott off the field in tears, his ankle gruesomely twisted. It was immediately clear the injury—what ended up being a compound fracture and dislocation—was a season-ender for the quarterback.
ESPN reported soon after the game that Jerry Jones called the injury heartbreaking. "I know this young man very well," Jones said in a statement. "I know the personal hardship and strife that he has faced, dealt with and overcome in his young life. And I know of no one who is more prepared, from the perspective of mental and emotional toughness and determination than Dak Prescott to respond and recover from this challenge that has been put in front of him."
"He is an inspiration to everyone he touches," Jones continued. "He has all of our love and support. And we have no doubt that he will return to the position of leadership and purpose that he brings to our team."
Prescott's Faith and Resilience During the Loss of His Mother
One of Dak Prescott's life hardships Jones referred to is the loss of his mother. In 2012, Dak was a young rising football star dealing with an enormously painful challenge as his mother, Peggy Prescott, battled colon cancer. She was diagnosed at Stage 4 and ultimately died of cancer in November 2013.
Despite what he faced in his personal life, according to a report by Sports Illustrated, his determination and success grew and it had much to do with honoring his mother. "After my mom got sick, she told me, 'Allow me to be your story. All the greats have a story,' " Prescott says."
Since then Prescott has utilized his rising influence in his young NFL career to bring awareness to colon cancer and support cancer research. Following every touchdown he now points to the sky in memory of his mother.
Prescott also launched a non-profit, the Faith Fight Finish foundation, rooted in three words Peggy Prescott would share to inspire and encourage Dak and his brothers. As stated on the foundation's website, the mission of the non-profit is to invest "in the future of our youth by empowering individuals, families, and communities to find strength through adversity. The foundation focuses on fighting cancer and offering assistance to those facing life-challenging hardships; in honor of Dak's Mom, Peggy!"
Prescott's Unwavering Faith and Determination Continues Post-Injury
Not long after his catastrophic injury, Prescott shared an ever positive and optimistic video on his Instagram. In the video he said, "What's up everyone? I just wanted everyone to know that I'm doing well, and I can't thank you enough for all your love, your support, your prayers over the last few days. They've been more than overwhelming. From teammates, to family, to friends, to fans I don't know, to former and current players around the league and players around all sports, I just want to say thank you." He announced he was on his way to the doctor to see his leg (ankle injury) for the first time and saw the adversity he faced in overcoming the injury as another chapter in his life story.
To wrap up the video, Prescott stated, "I'm just excited. Excited for God's purpose and plan. I know it's bigger than anything that I see or I could have imagined, but I'm trusting him. My faith is doubled down more than ever and I'm thankful that he's my Savior and he guides me in life. So I know through him, all this will be possible and all this will be a great comeback and a great story."
Responses to Prescott's New Deal Have Been Positive
An article by ESPN details the contract with the Dallas Cowboys that Prescott signed this week. There has been warm reception and congratulations.
"What is so special about him is with all the success he has had on and off the field, he is still first and foremost one of the guys," All-Pro right guard Zack Martin told ESPN.com. "It's one thing to be a vocal leader as the quarterback, but he backs it up with how he works and prepares throughout the year. He takes the time to get to know his teammates and understands that no one's job is too small. He's everything you want in a quarterback, a teammate and a friend."
Prescott echoed the excitement and enthusiasm about the historic deal, which included an NFL record-breaking $66 million for a signing bonus atop the overall $160 million. In an earlier article, ESPN quotes Prescott from the press conference following the contract signing.
"I think this partnership says it, right? That ensures their faith in me, and as I've said, as a guy that lives by faith, just knowing that you have a family, have an organization that wants you at the forefront, go do it, that's everything," Prescott said. "Because I want to give them everything that they want, everything that they invested in. If I manifest it, if I put everything in, it'll happen on the back hand. I'm just excited to be on the front end of this, and we'll all be celebrating when it pays off."