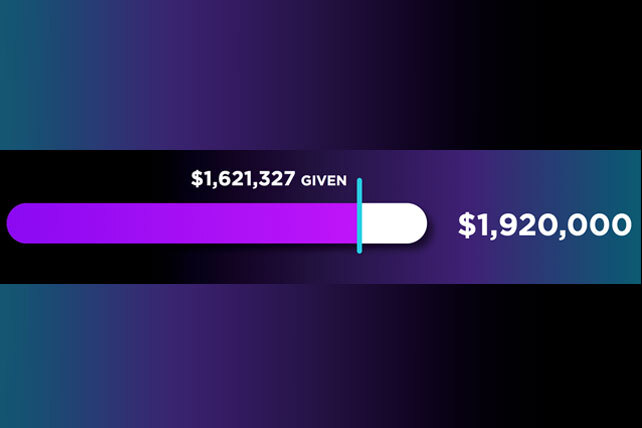 On March 6, thousands of women attended the virtual IF: Gathering—a growing women's conference and women's ministry resource hub with an international reach. This year's conference featured a partnership with IllumiNations' 12 Verse Challenge (12VC). The partnership between IllumiNations, a Bible translation alliance, and the IF: Gathering conference quickly proved fruitful as hundreds of the conference's attendees pledged $1 million funding for the 12VC project within five minutes of the challenge's presentation. Donating requires a pledge of $35 a month for a year and will aid in meeting the cost of translating 12 verses of Scripture over the course of that year.
IF: Gathering founder Jennie Allen posted a celebration of the conference attendees' pledges on her Instagram. "Nearly 6,000 of you [IF: Gathering attendees] have given 1.5 million in 3 days. We are on our way to putting a Bible in 2 languages for 2 people groups that have never had it. Thank you! Our minds are blown right now!!! Can you even believe this?!" The enormous fundraising effort will cover translation costs for creating two complete Bibles in languages that have never had a Bible translation. In a Christianity Today article, Allen is quoted saying of the IF: Gathering ministry, "This is our most important work to date."
Translation Answers the Challenge of "Bible Poverty" Across the Globe
According to the IlluminNations' 12VC website, "there are more than 3,800 language groups with little or no access to Scripture." They refer to that lack of Bible translation into languages of less widespread use as "Bible poverty." Making God's Word accessible and understandable is a centuries-long goal spearheaded by missionaries, Bible translators, churches, the prayers of Christians, and countless other efforts of the Church. Through great work and dedication, there have been incredible, exciting strides in Bible translation and IllumiNations seeks to continue this historic effort.
"IlluminNations is harnessing Bible translation partners from across the globe to translate the Bible into every living language within our generation. This can seem like a daunting task, but we know it's worth it because we know that God's Word is our most valuable treasure. We know that where God's Word is accessible, radical change happens. God promises that his Word will accomplish its purposes:
'For as the rain and the snow come down from heaven and do not return there but water the earth, making it bring forth and sprout, giving seed to the sower and bread to the eater, so shall my word be that goes out from my mouth; it shall not return to me empty, but it shall accomplish that which I purpose, and shall succeed in the thing for which I sent it.' (Isaiah 55:10-11)
The hope of salvation revealed to sinners is found in God's Word. And this hope has brought together organizations, individuals, churches, and Christians from all walks of life—and all across the globe—into unity around this goal."
IllumiNation's Globally Inclusive Bible Translation Accelerates
In "The Story" section of IllumiNations' website, they explain that the 3,800 language groups they have identified as still in need of a Bible translation equals roughly one billion people globally. And that, "over 2,000 of those language groups do not have a single verse of Scripture [translated into their language.] Right now, ten of the leading Bible translation agencies and their global partners are working in a unified and coordinated effort to see the Scripture translated and delivered to the remaining [3,800] language groups by 2033. Because of their unified approach, this monumental task, which just a few years ago was slated to be completed in 2150, is on track to be finished in 2033."
This year's IF: Gathering provided a sizeable boost to the funding for 2021, but IllumiNations invites anyone to take part in their Bible translation efforts. Individuals can pledge funding directly on the website. They also invite churches to rally as a community to offer support. This year's current tally for involvement and donations on the website states, "Across 6 events we have had 6,362 people take the IllumiNations 12 Verse Challenge resulting in $1,623,348.00 raised to translate 46,381 verses of Scripture."
Another Recent Stride in Bible Translation
The goals within Bible translation are not only for spoken languages. Until recently, the lack of Bible translation also applied to the unspoken language of American Sign Language (ASL). It took 38 years of work, but there is now a complete Bible translated into ASL, offering a deeper understanding of the Bible for deaf or hard of hearing communities around the globe. A September 2020 Church Leaders article explains, "Contrary to what some assume, sign languages are unique languages, not simply 'different versions' of spoken languages. Therefore, if ASL is a Deaf or hard of hearing person's first language, then for that person to read the Bible in English means he or she is reading a foreign language."
The completion of the ASL Bible was an important first step in translating the Bible for those whose language is heavily visual. It also offers a reminder for considering other forms of language utilized across the world when translating God's Word for full accessibility.