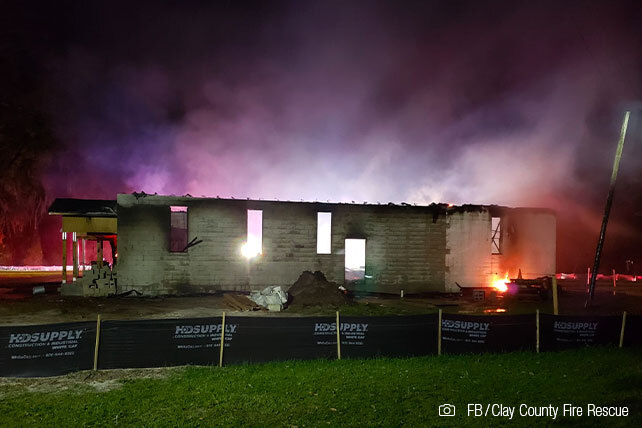 Several congregations throughout the U.S. have recently been targeted by vandals, some of whom defaced churches with satanic graffiti. Authorities are also investigating whether an arsonist started a fire that caused a church building to burn down in Florida. 
"It was somewhat alarming because it has never happened before," said First Lady Jennifer Washington of Temple of Greater Works in Shreveport, La. "But at the same time, it kinda reinforced my faith, the stand we are making for truth today in spite of everything that is going on, the expression of hatred. We just want to [make] sure our expression of love is greater."
On Monday at 8:30 a.m., Washington and her husband, Pastor Richard Washington, discovered that the doors of their church building had been spray-painted with the number "666" and a pentagram.
If you know anything about the vandalism, please call the Shreveport Police Department. https://t.co/5U1lyKjHni

— KSLA News 12 (@KSLA) March 22, 2021
Said Pastor Richard Washington, "My wife was telling me 'what's that on the door?' and I was like ahh I was focusing on driving and then when I pulled up I said wow! I really don't understand why this church because there are a lot of other churches doing a lot of great work as well." Police are still searching for a suspect at this time.
Satanic Graffiti Also Left at Church in Kansas
"Almost every door and drawer and cabinet in this church had been ransacked," Rev. Craig Liskey told 13 News Tuesday evening. Liskey is with Lighthouse on the Rock Church in Topeka, Kan., where earlier this week vandals defaced a cross with a demonic symbol and left the cross upside down on a chair. 
Perhaps even more disturbing is the note the vandal or vandals left, which said, "I am not Godless, I have spoken to the Father, and I will stop and repent. Don't let hate into your hearts. Forgive me as he has…not good but not evil. -Tophet-"
"Tophet" is a word for "hell" that originates from Hebrew, according to Merriam Webster. The Old Testament refers to "Topheth" in Jeremiah 7:31 when it says, "They have built the high places of Topheth in the Valley of Ben Hinnom to burn their sons and daughters in the fire—something I did not command, nor did it enter my mind."
The perpetrators stole several items from the church, including sound equipment, an American flag, a piano, and two refrigerators. The burglars also stole Lighthouse's camera equipment, meaning that the church will be unable to livestream its services for the time being. "Our people in the church are so precious and wonderful people…this is quite traumatic to us," said Liskey, adding, "I'll be praying for whoever did this; I'll be praying for them."
St. Dunstan's Episcopal Church in Shoreline, Wash., is another congregation that was the target of vandalism recently—and for the third time this year. While the suspect did not leave satanic graffiti, he did cause extensive damage. "It's deeply painful,"  said Rev. David Marshall. "It causes a lot of grief." In the early morning hours of March 18, the perpetrator broke in, throwing rocks through the church's glass doors and spraying a fire extinguisher throughout the building. 
This suspect broke into St. Dunstan's Church in Shoreline. Church says he caused $50k+ in damage & cleanup bc of chemicals in the fire extinguisher & sprinkler system he triggered.

Church has no kitchen for now but STILL managed to cook hot meals for those in need today. 🙏🏼 pic.twitter.com/4yvZJFyWdC

— Deedee Sun (@DeedeeKIRO7) March 24, 2021