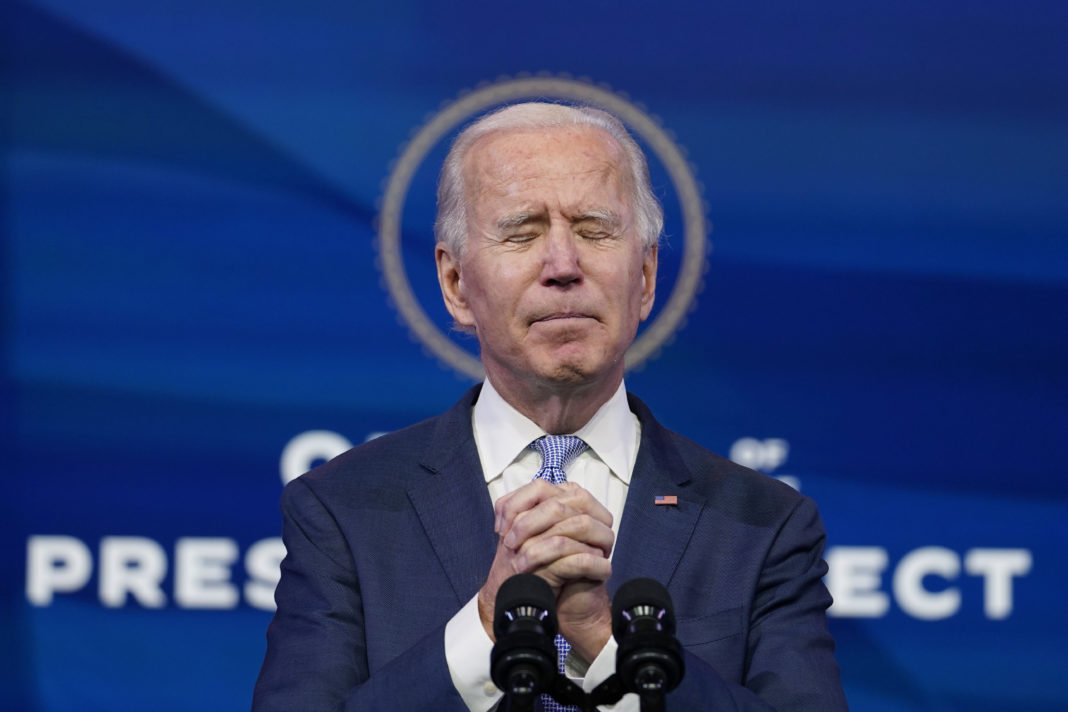 (RNS) — Most Americans know President Joe Biden is Roman Catholic but there are stark differences — especially based on political party — in how they believe he should live out his faith, a new study shows.
About 6 in 10 U.S. adults (58%) recognize Biden is Catholic, including 63% of those who are Democrats or lean Democratic and 55% of Republicans or Republican leaners. Most others surveyed said they were unsure of his religious affiliation.
The findings were released Tuesday (March 30) in a Pew Research Center report looking at Americans' views about the faiths of Biden and Vice President Kamala Harris.
The survey of more than 12,000 U.S. adults revealed a political divide in agreement on just how religious the two top officeholders are.
More than 8 in 10 Democrats (88%) say Biden is at least "somewhat" religious — including 45% who describe him as "very" religious — while almost two-thirds (63%) of Republicans say he is "not too" or "not at all" religious.
Two-thirds of Catholics (66%) and atheists and agnostics (66%) know Biden is Catholic, compared with three-quarters of Jews (75%) and about half or fewer of Black Protestants (46%) and people who describe their faith as "nothing in particular" (43%).
While most respondents were familiar with the president's faith, they were less so about the religious identity of Harris.
Two-thirds of American adults (65%) said they are not sure of Harris' religion, while only 12% said she is Protestant. The vice president identifies as a Baptist.
About half of Americans say Harris is "somewhat religious" (38%) or "very religious" (8%), with the other half saying she is "not too religious" (28%) or "not at all religious" (23%).
Equal shares of people in both parties say they do not know her religion (64% each) but, as with Biden, far more Democrats are likely to see her as at least somewhat religious (69%) than Republicans are (19%).
Among religious groups, the view that Harris is a religious person is most common among Black Protestants (78%) and least among white evangelical Protestants (20%). There was a similar finding for Biden: 87% of Black Protestants said he was at least somewhat religious, but just 35% of white evangelicals said so.
The findings line up with previous studies that show Black Protestants tend to vote Democratic while white evangelicals lean Republican.
Overall, 64% of U.S. adults say Biden is "very" or "somewhat" religious, an increase from 55% who described him that way in February 2020. There has been a notable increase in the share of Americans who now say Biden is "very" religious.
"But virtually all of this increase has happened among Democrats; among members of Biden's own party, 13% described him very religious early last year, compared with 45% today," notesGregory A. Smith, Pew's associate director for research and author of the report on the new findings.
He noted members of the president's party may have heard him mention his faith both on the campaign trail, such as at the Democratic National Convention, and since his election, including during inaugural ceremonies.
The partisan difference in views about Biden continued when respondents were asked about how much the president discusses his faith. Eight in 10 Democrats (79%) said he mentions his religious faith and prayer "about the right amount," while fewer than half of Republicans (42%) came to the same conclusion.
Even among Biden's fellow Catholics, partisanship permeates views of Biden's religion. Nine in 10 Democratic and Democratic-leaning Catholics say they think Biden is at least somewhat religious, including half who say he is "very" religious. Among Republican and Republican-leaning Catholics, by contrast, a 56% majority say Biden is "not too" or "not at all" religious. And while 8 in 10 Catholic Democrats say they think Biden discusses his faith "about the right amount," barely half as many Catholic Republicans say the same (42%).
Catholic respondents aligned with the two major political parties show especially stark differences in whether the president should be disqualified from receiving Communion in the Catholic Church.
While 55% of Catholic Republicans think the president's views on abortion should disqualify him from Communion, 87% of Catholic Democrats disagree. About two-thirds of U.S. Catholics overall (67%) say the president should be allowed to receive Communion.
Biden said during his campaign that he would protect Roe v. Wade, the 1973 Supreme Court decision that legalized abortion. Shortly after Biden's election, the president of the U.S. Conference of Catholic Bishops expressed concerns about Biden's abortion views.
The survey of 12,055 U.S. adults, including 2,492 Catholics, was conducted March 1-7 and has an overall margin of error of plus or minus 1.5 percentage points. The margin of error for subgroups, such as Black Protestants, Catholics and Jews, ranged from 1.9 percentage points to 9.8 percentage points.
This article originally appeared here.