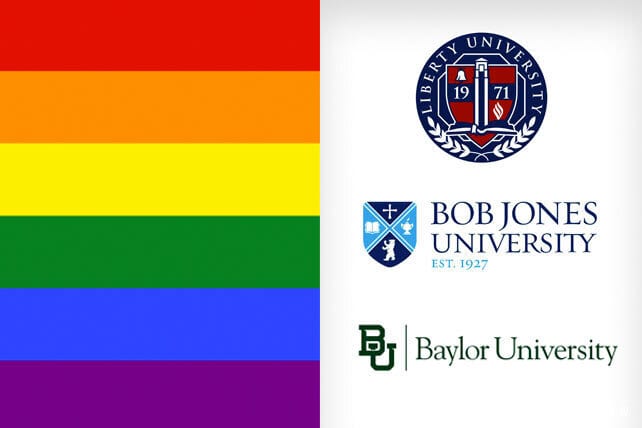 UPDATED May 11, 2021: (RNS) — Seventeen professional psychological societies have signed a statement asking the U.S. Department of Education to protect LGBTQ students at religious colleges and universities from discrimination.
The statement comes in response to a class-action lawsuit on behalf of 33 students or former students of federally funded Christian colleges and universities that allege widespread discrimination against LGBTQ students, including bullying and harassment.
"Decades of psychological research has consistently found that discrimination toward LGBTQ+ people is harmful, and can result in increased rates of suicide, mental health symptoms, substance abuse, isolation, and lower academic achievement in school settings," the statement said.
It calls on the Department of Education to investigate allegations of harm and to take appropriate actions to protect LGBTQ students.
The signatories — all divisions of the American Psychological Association — include the Society for the Psychology of Sexual Orientation and Gender Diversity, the Society for the Teaching of Psychology, the American Psychology-Law Society and the Society for Pediatric Psychology. The statement does not represent the position of the American Psychological Association.
The statement was organized by Joshua Wolff, a clinical psychologist and professor at Adler University in Chicago.
"It's aimed at colleges that say being LGBTQ is a sin and that take a non-affirming theological position on (sexual) identities and relational statuses," Wolff said.
Filed in March by the nonprofit Religious Exemption Accountability Project, the lawsuit alleges LGBTQ students at 25 Christian colleges and universities were forced to attend conversion therapy, prohibited from dating people of the same sex, disciplined for social media posts, denied on-campus housing and, in one case, blocked access to affirming LGBTQ websites and resources on the campus internet.
These schools affirm a traditional view of Christianity that does not recognize sexuality outside of heterosexual marriage. Some require students to sign conduct codes forbidding same-sex dating.
Most of the schools receive federal funding in the form of student loans and research grants, but they are allowed religious exemptions to Title IX's protections for LGBTQ students. The Religious Exemption Accountability Project counts 200 religious colleges and universities that discriminate against LGBTQ students.
The statement acknowledges the importance of religious expression and notes religion and spirituality are important to the lives of LGBTQ people. But it calls upon the Department of Education to recognize religious freedom without ignoring harmful practices and policies directed at LGBTQ students.
This article originally appeared here.
_______________________
ChurchLeaders original article written on April 1, 2021 below.
In a lawsuit filed this week, 33 current and former students at U.S. Christian colleges and universities say their schools should be ineligible for federal funding due to LGBTQ discrimination that's permitted due to religious exemptions. The class-action suit brought by the LGBTQ students names 25 institutions of higher education and aims to strike down the religious exemption in Title IX, the federal civil rights law that bans discrimination based on sex.
"The Plaintiffs seek safety and justice for themselves and for the countless sexual and gender minority students whose oppression, fueled by government funding, and unrestrained by government intervention, persists with injurious consequences to mind, body and soul," the suit states. "The Department's inaction leaves students unprotected from the harms of conversion therapy, expulsion, denial of housing and healthcare, sexual and physical abuse and harassment, as well as the less visible, but no less damaging, consequences of institutionalized shame, fear, anxiety and loneliness."
Lawsuit Is Timed for Debate About the Equality Act
The nonprofit group Religious Exemption Accountability Project (REAP), which filed the lawsuit on behalf of students, fears that LGBTQ students at Christian colleges will miss out on Equality Act protections. That's because religious groups are trying to obtain compromises, fearing that the landmark legislation, if passed, would destroy religious freedoms.
Paul Southwick, director of Oregon-based REAP, says, "Many mainstream LGBTQ groups aren't committed to fighting. We want to say, 'Don't negotiate us away.' Don't bargain away these students, who are really being damaged with taxpayer money. I'm worried they will be cut out of the Equality Act through negotiations."
One reason mainstream LGBTQ groups aren't involved in these cases, says Southwick, is that "when you talk about queer kids at Christian colleges, [groups'] responses are 'What the h— are they doing there?" But, he points out, students may end up at religious schools because of their family's conservative beliefs. Once on campus, "They're treated inhumanely and subjected to these dangerous and abusive policies and practices."
REAP says one-third of America's 600 four-year nonprofit Christian colleges have anti-LGBTQ policies in their student-conduct codes. Citing U.S. Treasury Department data, REAP says those approximately 200 colleges receive $4.2 billion in federal funding.
Lawsuit from LGTBQ Students Aims to Personalize the Debate
Involving numerous plaintiffs helps attach names and faces to students facing discrimination, according to REAP. Plaintiff Veronica Penales, a sophomore at Baylor University, describes having a "mixed experience" there. Some friends and faculty are supportive, she says, while others are "kind of behind the scenes not rooting for you."
Penales reports being targeted with offensive slurs and receiving a Bible in which anti-gay quotes had been highlighted. Despite her complaints, administrators have done nothing to help, she says. "I really hope this lawsuit being so public…ensures that the LGBTQ+ issue is at the forefront, as it should be."
Elizabeth Hunter, who attended Bob Jones University after being adopted by a fundamentalist Christian family, says administrators questioned her about her sexuality, made her attend anti-gay counseling, and ended her on-campus job. The plaintiff denies trying to stir up trouble, saying she merely wanted to "affirm GLBT rights without opposing biblical values."
Liberty University graduate Lucas Wilson, another plaintiff, says he chose the school because of its student-run conversion therapy group. Now, however, he says that group and Liberty's culture "amplified and compounded feelings of self-hatred, feelings of shame and guilt and anxiety that ultimately took years to deconstruct." Wilson, 30, calls Liberty a "thoroughly homophobic institution."
Christian Schools Respond to Charges
Several schools aren't commenting, saying they haven't seen the lawsuit yet or don't talk about pending litigation. But previous statements from administrators range from support for LGBTQ students to defense of their Bible-based policies.