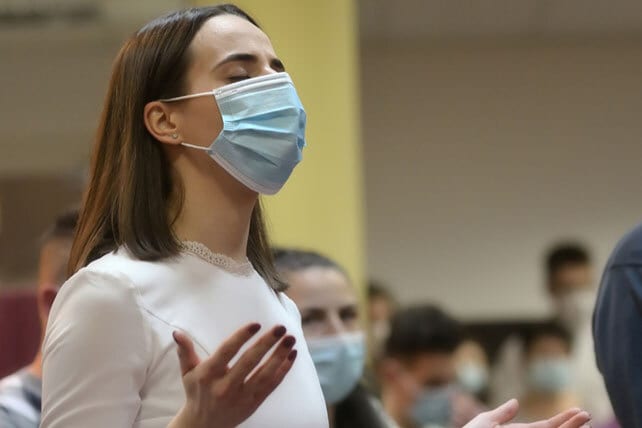 Last week's surprise announcement from the Centers for Disease Control (CDC) about face masks sparked reactions ranging from relief to fear. Many major retailers quickly loosened safety requirements, even though they are asking people to follow an honor system and there is no way to tell who's been vaccinated against COVID-19.
On Thursday, the CDC declared that fully vaccinated individuals can resume pre-pandemic activities and don't need to wear face masks or practice social distancing indoors or outdoors. Local and state ordinances remain in effect, however, as do requirements in settings such as health care and public transportation. Private businesses may set their own guidelines, leaving many venues—including churches—facing big decisions.
Depending on an Honor System
Enforcement of the new guidelines could get tricky, especially in the absence of so-called vaccine passports. "You're going to be depending on people being honest enough to say whether they are vaccinated or not," says Dr. Anthony Fauci, chief medical adviser for President Biden.
Some experts warn that an honor system puts public health at the mercy of individuals during a time when interpersonal trust is already quite low. Dr. Kavita Patel calls an honor system "simply magical thinking," noting that people tend to lie about health matters to avoid being judged.
"At least with mask mandates in place, we knew that everyone around us was doing something to help us reduce our risk," says medical sociologist Andrea Polonijo, who is immunocompromised. Other concerned groups include frontline workers, communities of color, and parents whose children are too young to get vaccinated.
Relying on people's honor will likely lead to "almost no one" wearing a mask, predicts epidemiologist Dr. Lisa Maragakis. As a result, she says, the infection risk for the two-thirds of Americans still unvaccinated will "dramatically increase."
Dr. Sanjay Gupta, who calls the CDC's move a "critical error," notes that wearing masks indoors "is so effective and it's not that hard to do."
How Should Churches Proceed?
For church leaders and churchgoers, experts recommend using caution while monitoring local guidelines and weighing individual risks. People should make decisions based on their circumstances and assume that not everyone around them is vaccinated.
Dr. Ada Stewart, president of the American Academy of Family Physicians, suggests that in-person worshipers, regardless of vaccination status, "follow local public health measures as well as the rules put in place by the individual houses of worship."
Experts also urge churches to continue best practices such as maintaining proper ventilation, cleaning pews, providing hand sanitizer, avoiding shared materials such as hymnals, and worshiping outside when possible. Other recommendations include sitting near a window or door, if you're inside, and not singing. For classes, Dr. Leana Wen says Sunday school is similar to regular school, where "transmission can be quite low if the proper mitigation measures are followed."
The mask move is simply a "first step," emphasizes CDC director Dr. Rochelle Walensky. "Not everybody has to rip off their mask because our guidance changed." She adds, "Ultimately, we know that this virus is an opportunist, and where there are low rates of vaccination, it will emerge again."