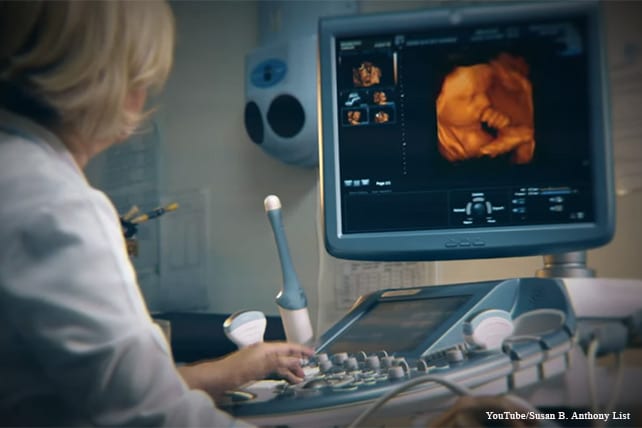 Susan B. Anthony List (SBA) just released a pro-life commercial talking about the science of abortion and that it is still legal in America to have a baby aborted, even though a baby in womb can feel pain at just 15 weeks old. The commercial is part of the anti-abortion group's $2 million campaign it says is to "highlight the humanity of unborn children" in the hopes of bringing awareness to the Supreme Court's upcoming Dobbs v. Jackson Women's Health Organization case it will hear this October.
SBA's commercial is 30 seconds long and explains that for five decades, because of "outdated laws," every age group except the unborn has benefited from medical breakthroughs.
SBA's President Marjorie Dannenfelser told Fox News, "The science is simple: unborn children are human beings and deserve protection. Across the country, state lawmakers acting on the will of the people have introduced nearly 550 pro-life bills. Seventy already enacted so far this year aimed at recognizing these facts and humanizing our laws. We are eager to further educate the nation about these realities and are hopeful that the law will soon catch up to the science."
Pro-Life Commercial Is 'Controversial,' Say Networks
In a letter written to the Susan B. Anthony List, CBS told the pro-life agency their commercial was too "controversial" and was deemed "unacceptable." CBS said, "Issue-oriented advertisements that are designed for the purpose of presenting views or influencing legislation on issues that are controversial by general public consensus are unacceptable."
Country Music Television (CMT) also rejected airing the commercial and told SBA, "While we do accept political and issue-based ads on a case-by-case basis, issue-oriented ads that are designed for the purpose of presenting views or influencing legislation on issues that are controversial by general public consensus are unacceptable."
Hallmark Channel's parent company, Crown Media, said it didn't meet the criteria for the positive experience Hallmark aims to offer it's viewers.
CBS, Hallmark Channel, and CMT have aired controversial LGBTQ commercials, Planned Parenthood commercials, and sexual enhancement commercials.
Susan B. Anthony List responded on Twitter saying, "BIG MEDIA corporations like @CBS & the @hallmarkchannel BANNED our pro-life TV ad, claiming it's too 'controversial.'"
The pro-life commercial will air on the Lifetime channel, as well as on Bravo, and within the Washington D.C. television market.
Read what is said during the pro-life commercial below:
Five decades of medical breakthroughs. Every age group has more opportunity to live, except one. The unborn still fall victim to outdated laws. Science tells us that at 15 weeks these babies have formed faces. They smile, they yawn, they feel pain. It's why European countries ban late term abortions. In five decades we've learned they are just like us. Isn't time the law reflects the science?
Abortion Named Leading Cause of Death in 2020
The leading cause of death in the 2020 wasn't COVID-19—it was abortion, something that has sadly held true for many years. The data Worldometers compiled showed that over 42 million abortions were performed in 2020, and in the United States alone it is estimated that over 3,000 abortions take place every day.
This year many states are tightening their laws when it comes to abortions performed within their state lines. Arizona recently passed a law making it illegal to perform an abortion based on "the sex or race of the child or the race of the parent of that child." Oklahoma passed three new bills this year dealing with abortion restrictions. One of those bills makes it illegal for an abortion to be performed or induced if the unborn child has a heartbeat, unless there is a medical threat to the mother.