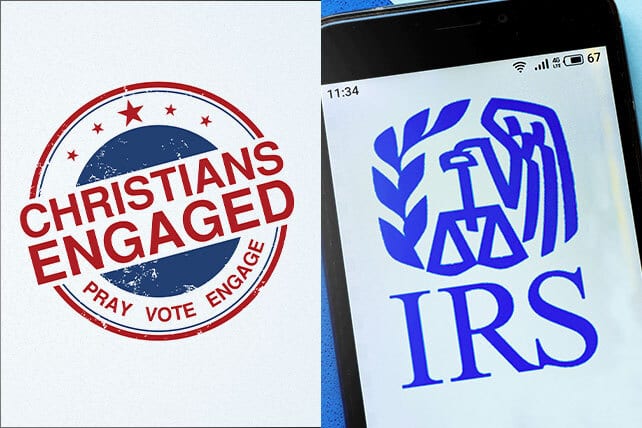 UPDATED July 9, 2021: The Internal Revenue Service (IRS) has granted tax-exempt status to the group Christians Engaged, reversing course after receiving national attention for denying the group's request. Among the IRS's reasons for its prior decision was that the biblical beliefs of Christians Engaged were associated with the Republican party.
"I am incredibly thankful to the IRS for doing the right thing," said Bunni Pounds, president of Christians Engaged, "and we look forward to continuing our mission of educating more followers of Jesus to pray for our nation and to be civically engaged. When we stand up, our republic works for all Americans."
First Liberty Institute (FLI) represented Christians Engaged in its appeal to the IRS. FLI's Lea Patterson said, "This is truly great news for our client, as well as religious organizations and churches across America. We are grateful the IRS changed course to bring its decision into line with the Constitution and its own regulations."
Political pressure might have contributed to the IRS's decision to change course. On June 29, 2021, House Ways and Means Republican leader Kevin Brady, R-Texas, and Oversight Subcommittee Republican leader Mike Kelly, R-Pennsylvania, sent a letter to IRS Commissioner Chuck Rettig, saying they were "shocked" by the IRS's reasoning in its decision to deny Christians Engaged nonprofit status. The committee, said Brady and Kelly, "will not stand idly by and let the IRS target taxpayers and politicize their religious beliefs." They requested that Rettig look into "this serious matter" and respond by July 9.
Republican Reps. Jim Jordan, James Comer and Mike Johnson also sent a letter dated June 30 to J. Russell George, Inspector General for Tax Administration. "The IRS's denial of tax-exempt status to Christians Engaged on the assumption that bible teaching is an activity 'typically' associated with Republicans is wrong and outrageous," they said. "We urge you to immediately review the IRS's denial of tax-exempt status to Christians Engaged and whether the IRS has denied similarly situated applicants on the basis of constitutionally protected speech."
---
ChurchLeaders original article published on June 18, 2021, below:
Christians Engaged, a self-described "educational, Christian and nonpartisan" group based in Texas, is appealing after the Internal Revenue Service denied its request for tax-exempt status.
In a letter last month, Stephen Martin, director of exempt organizations, informed Christians Engaged it is disqualified from nonprofit status because it operates "for the private interests" of the Republican party and its "bible teachings are typically affiliated with" that party. The group, meanwhile, says it merely encourages Christians to get involved with the political process, and it accuses the IRS of "engaging in both viewpoint discrimination and religious discrimination."
Christian Engaged Denied for Several Reasons
In its rejection letter, the IRS acknowledges that Christians Engaged does indeed "educate voters on what the bible says about issues," but it concludes that those "educational activities are not neutral." Instead, "the topics typically are affiliated with distinct candidates and specific political party platforms."
These include "the sanctity of life, the definition of marriage, biblical justice, laws vs. lawlessness, freedom of speech, religious liberty, government and business ethics, human trafficking, fiscal responsibility in government budgeting, defense, borders and immigration, U.S. and Israel relations," according to Martin's letter. "Specifically, you are engaged in prohibited political campaign intervention," he informs Christians Engaged.
These activities include a month-long political activism course, Martin writes, with topics such as "instructing individuals on becoming a citizen lobbyist, working with elected officials and candidates, discerning between the [lesser] of two evils, keeping the Christian soul right when working on politics, practical steps and pitfalls in political activism, [and] how to work with an interest group."