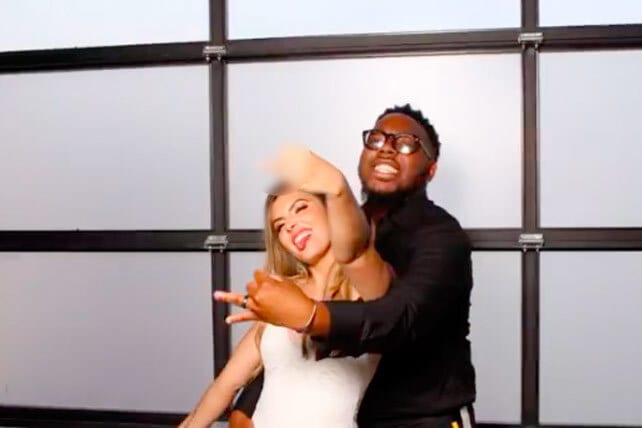 Chandler Moore, lead singer for the Christian worship band Maverick City Music, took time during his honeymoon to address a controversial photo he recently posted on social media. After his June 8 wedding to Hannah Poole, Moore uploaded some pictures to Instagram, including one of the couple in what appears to be a sexual position while dancing. It's the second photo at this link [Editor's note: This post contains content some may find offensive].
Moore, 26, captioned the image "@hgracemoore knows how to twerrrrrrrk. #hallelujah JEEESUS." In response, some people called it "soft porn" and urged the worship leader to remember his "big responsibility" as "a man who represents Jesus for a living."
Others said the public post might give viewers the wrong impression about Christianity. "(Y)ou should have asked yourself before posting this, 'how does this glorify God?'" one person commented. "All things are permissible but not all are beneficial."
Chandler Moore: We Were Just Dancing
In his June 17 statement, Moore says the photo in question simply shows his wife "dancing on me." Providing much context is "not necessary," he notes, because "great music" was being played while the newlyweds danced at their reception.
"If it offended you that I posted it, I apologize," writes Moore, before addressing the "super heartbreaking" comments some people made merely because the couple was dancing "in ways some believed were inappropriate." Some critics, Moore writes, "literally said we would struggle in the future, we would have a rough marriage" as a result of the photo. "No part of that is Christlike," he adds.
The worship leader notes that "several leaders" hold him accountable, correcting him on a "daily basis." And he explains that "healthy correction" requires "proximity" to the person you're correcting. Yet "100% of those who posted publicly or commented [on the photo] literally do not know me," says Moore. "They know what they think about me. That's it."
Israel Houghton Defends Chandler Moore's Post
After worship leader Israel Houghton came to Chandler Moore's defense online, he faced criticism too. Houghton, who recently collaborated with Maverick City Music and previously dealt with an infidelity scandal, says negative comments from the "saints" blew him away. "We wonder why people don't want to come to our churches," he says. "Let these lovebirds live. Unfollow if you're offended." Houghton urges Christians to "stop fighting other Christians" and to "take some of your offensive pics down while you're at it."
Other people also offered support online for Moore, saying the photo didn't require an apology. "You don't owe any over-entitled strangers any explanations for what you and your wife do," one comment states. "Quite frankly, it's none of our business."
The Moores, who were married in Texas exactly one year after meeting, shared wedding photos with People magazine. "These last 12 months have been full of joy, and that's exactly what our wedding was," the couple tells the magazine.
Since the group's debut in 2019, Maverick City Music has been churning out worship albums. "Old Church Basement," a collaboration with Elevation Worship, set a streaming record, and the video for the song "Jireh" has been viewed more than 800,000 times on YouTube since its Easter release. Moore also sings with Justin Bieber on the pop star's new faith-centered EP "Freedom."