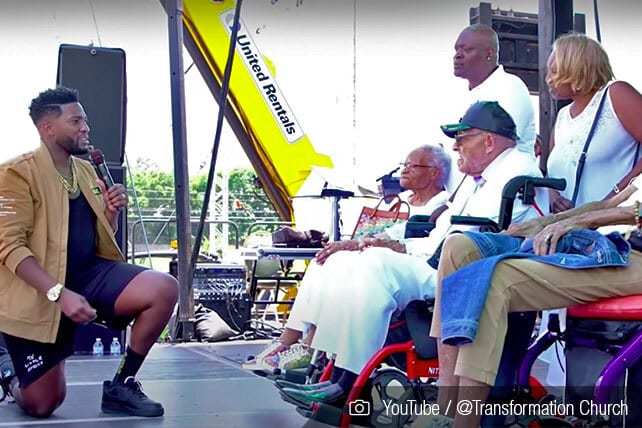 During its worship service last Sunday, Transformation Church in Bixby, Okla., blessed several community members with financial gifts. The megachurch near Tulsa, which has made large donations in the past, gave away $1 million on the Juneteenth weekend, including $200,000 to each of the three remaining survivors of the Tulsa Race Massacre.
Pastor Michael Todd spoke about reparations, encouraging churches and pastors to take the lead in creating societal change.
Transformation Church: 'God Brings Beauty From Ashes'
While addressing his congregation, Todd didn't shy away from the controversial topic of financially compensating people who've been wronged. He said reparations "is not a political word" but a biblical concept of "repairing something that was destroyed." God will bring about reparations, the pastor said, just as he promises to "restore to you the years that the locust have eaten" (Joel 2:25) and to bring beauty from ashes (Isaiah 61:3).
In 1921, the Tulsa Race Massacre resulted in hundreds of deaths and the destruction of the mostly Black Greenwood neighborhood, known as Black Wall Street. Although it's one of America's worst cases of race-related violence, the massacre had—until recently—been absent from many history books. Pastor Todd noted that because "reparations is not coming from them," meaning the U.S. government, he had instructed church staff to locate remaining survivors and to pinpoint Tulsa's average home price.
On Sunday, the three living survivors, whose ages range from 100 to 107, attended worship at Transformation, where they heard words of thanks and each received a check for $200,000. "Thank you for living a life that survived the devastation," Pastor Todd told them. "I'm a young Black man who took over a church from a white man who built it in North Tulsa. That couldn't have happened if you all didn't survive. Today, we can't restore everything that has been stolen from you. But today we can put a seed in the ground."
Transformation Church also presented money to several local organizations, including a grocer who provides fresh produce in an area that had become a food desert.
Transformation: Change Starts in the Church
At Transformation Church, the theme for Sunday's celebration was "Devastation 2 Restoration." Pastor Todd said, "If God is the God of reparation and restoration, and I am…one of God's people, then I am responsible for being a part of restoring what has been torn down." That applies to all churches and church leaders, he said, urging others to step up. "It's reparations season, and change starts in the church," he said.
Sunday's worship marked Transformation Church's first in-person service in 462 days. In a Facebook post, the church describes the event as "history in the making," with "people of all races and ethnicities [coming] together as the Capital C Church."
The post continues, "We turned a place of pain into a place of WORSHIP! And we were able to give $1,000,000 to survivors of the Tulsa Race Massacre and non-profit organizations! When God told our founding pastor, Bishop Gary McIntosh, to reverse the curse in Tulsa, we had NO idea it would be like this! But we are so GRATEFUL and HUMBLED to be used in this way!"