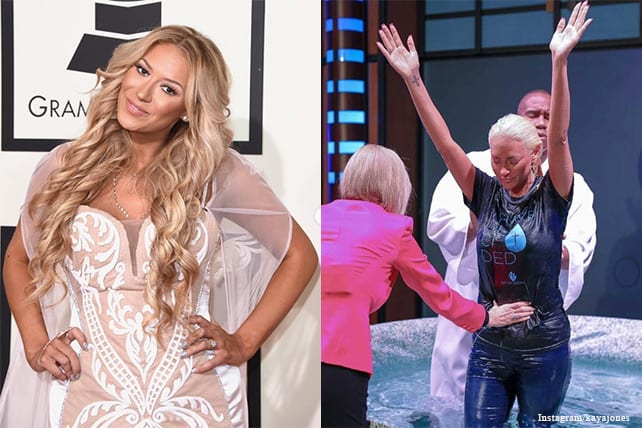 A professional singer and former member of the popular 2000's all-girl pop group the Pussycat Dolls, Kaya Jones shared with her social media followers last month she was baptized, and she praised Paula White's ministry for sowing a seed that brought her to Jesus.
Jones grew up in a Christian household, but gives testimony that she slowly stopped attending church after her parents got a divorce. At age 16 she was signed to music industry giant Capital Records and later joined the Pussycat Dolls in 2003 at age 19. Jones was recruited along with Nichole Scherzinger, who is a singer and now a panelist on The Masked Singer. Jones shared that when she joined the American pop group that she was serving herself and not God.
Kaya Jones: God Writes Incredible Outcomes
Kaya Jones told her followers knew she wasn't following the plan God had for her, saying "much damage and pain has come." She shared in an interview she had an abortion while she was in the Pussycat Dolls.
Jones is now a pro-life advocate speaking out for the unborn and to mothers who have had abortions. She said, "The Lord told me when I needed to speak on that and I started to speak on it, and I'm speaking from a place that I've done it, I've lived it, it's very painful." Speaking with other women with whom she can relate, Jones explains, "We regret not having our child, our children, so I do think that it's a really important issue to be speaking on now more so than ever because people are glorifying it and they're really giving you horrible advice."
"God writes the most incredible outcomes," Jones said in an Instagram post and invited those reading to give their life to Christ. "I've sang with Jagger, Britney, Fergie, Katy Perry & many others. Nothing & no one compares to singing with Jesus! Nothing! Thank you for saving me! You take what the enemy meant for evil & you turn it for good!"
"Now I sing full-time for the Lord!"
"Kaya this is going to be a new season for you," Pastor Paula White told Jones before her baptism. White continued,
Everything the enemy stole God is about to restore…I believe that you're going to be baptized with the Holy Ghost today and you're going to come up with the evidence of speaking in tongues. I believe that God is bringing new people into your life. I believe that today is a day of transformative day and today is a day that old things die and nothing from your past is going to be able to go into your future. Every generational curse broken. Everything that was stolen from you in the world God is going to return to you even now and today is the day of suddenly.
Referring to White, the former Pussycat Dolls singer said, "It was a dream come true to be baptized by this woman who brought me to Christ through the TV."
Jones wrote in her baptism post, "Purification by the Holy Spirit! Best day ever done by the woman who brought me to Christ at 16 years old! God is amazing! Thank you." White responded, "I am very grateful and honored to be a part of Gods plan for your life 🙏🏻❤️. I love you and rejoice at all that God has for you Beautiful 🙏🏻❤️"
Jones said the resurgence of her faith in Jesus has had a positive effect on those around her, including her mother, her mother's boyfriend, and Jones' boyfriend. Jones shared that her mother has been coming to church and that Jones' boyfriend has been immersing himself in the Word of God. "I can only attribute that to the Holy Spirit," she said. "It's not me. It's Him."
In 2019 Jones collaborated with Christian musician Jason Crabb on his song "Let It Be Love." The song was featured on the album "Unexpected," which won a Grammy for Best Roots Gospel Album.