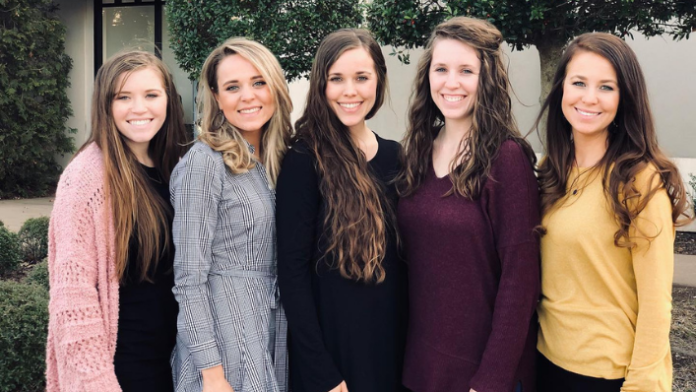 TLC has canceled the hit reality show, Counting On, in light of Josh Duggar's charges of receiving and possessing child pornography.
"TLC will not be producing additional seasons of Counting On," the network said in a statement Tuesday. "TLC feels it is important to give the Duggar family the opportunity to address their situation privately."
The show, which was a spinoff of the Duggar Family's original reality series, 19 Kids and Counting, followed the family's older children as they reached new milestones of adulthood including getting married, moving away from home, having babies, and everything in between. The show's most recent—and now final season—aired back in September.
19 Kids and Counting was canceled in 2015 after allegations surfaced that the Duggar's oldest child, Josh Duggar, had molested five girls, including four of his sisters.
On April 30, Josh was charged in Arkansas for receipt and possession of child pornography. Prosecutors believe Josh had more than 200 pornographic images of children on his computer, including child sex abuse images and videos of minors as young as 18 months up to 12 years old. If convicted, he could face up to 40 years in prison.
"We appreciate your continued prayers for our family at this time," Jim Bob and Michelle Duggar said in a statement posted to their website earlier this year. "The accusations brought against Joshua today are very serious. It is our prayer that the truth, no matter what it is, will come to light, and that this will all be resolved in a timely manner. We love Josh and Anna and continue to pray for their family."
In May, a judge ruled that the former reality TV star would be released to a third party while he awaits his trial. He still has unlimited visitation with all six of his children as long as his wife Anna, who is currently pregnant with the couple's seventh child, is present.
In response to the network's decision to cancel Counting On, Jinger Duggar Vuolo took to Instagram with gratitude and appreciation for the network she and her siblings called home for so many years.
View this post on Instagram
"We are grateful for TLC giving us the opportunity to be on their network over the years and their kindness towards the Vuolo family. It's been a remarkable journey that has opened doors to traveling and experiencing the world in a way that we wouldn't have imagined possible," she wrote in a statement on behalf of herself, husband Jeremy, and daughters, Felicity and Evangeline Jo.
"We wholeheartedly agree with TLC's decision not to renew 'Counting On' and are excited for the next chapter in our lives. We'd like to thank our fans, friends and the amazing film crew who have shown us love and support. We look forward to continuing our creative journey in Los Angeles and seeing what the future holds."
View this post on Instagram
This article originally appeared here.
Clarification: This article has been updated to clarify that Josh Duggar molested four of his sisters, not just two.