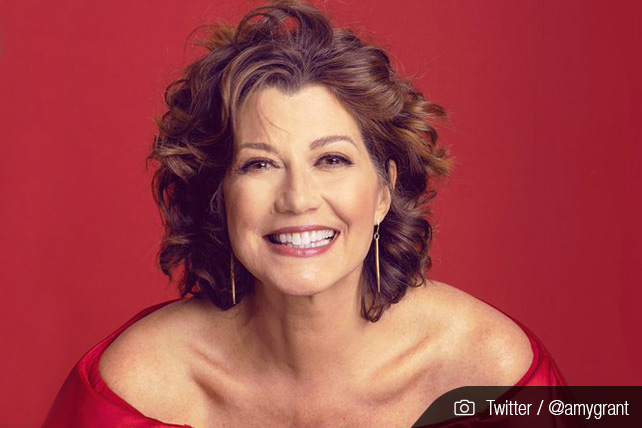 (RNS) — Thirty years ago, Amy Grant was on top of the world.
After years of topping Christian music charts, Grant had caught the mainstream industry's eye and began finding success on secular radio. In the 1980s, she had teamed up with Peter Cetera of the band Chicago for a No. 1 hit, "Next Time I Fall in Love," winning several Grammys and performing on " Late Show With David Letterman " and " The Tonight Show."
Then in 1991, her album "Heart in Motion" went platinum, selling more than 5 million copies thanks to hits like "Baby, Baby," "Every Heartbeat," "Good For Me" and "That's What Love Is For." The success of "Heart in Motion" made her a household name and worldwide star — an experience that was both joyful and overwhelming.
"It's like the jumping through the ring of fire," Grant recalled in a recent interview, adding, with a perspective on fame gained from some 40 years of living inside it: "Pretty hot when you're in the middle of it, but it doesn't last that long."
A newly remastered 30 anniversary "Heart in Motion" appeared this month, just in time for Grant, who had heart surgery last fall and calls herself fully recovered, to hit the road for a post-COVID, coast-to-coast tour, ending with a series of Christmas shows with her husband, the country music star Vince Gill, at Nashville's Ryman Auditorium.
Grant was recently named to the Nashville Songwriters Hall of Fame, which she said was "beautiful and encouraging" and just the motivation she needed to start writing more songs.
When work began on rereleasing "Heart in Motion," Grant hadn't listened to the album for years. The songs, she discovered, don't sound 30 years old, partly because their heavy reliance on synthesizers and studio techniques of the time have come back in style.
But listening to the songs brought back memories for Grant. When it came out she had young children at home and was still learning to balance the life of a pop star with being a mom. One of her four, her daughter Millie, who inspired the words to "Baby, Baby," made a surprise appearance at the Grammys as a toddler in 1992. By the end of that heady decade, Grant had gone through a painful, public divorce.
"I was picturing all of my family at a much earlier version," she said. "And those are always tender memories. You remember all good stuff, not the hard stuff."
The best-known songs on "Heart in Motion" are filled with infectious joy, but the album also includes "Ask Me," which Grant wrote after hearing the stories of friends who survived childhood sexual abuse.
When her band started that song in concert, most people would be sitting down. Then Grant would look out over the sea in the audience and see someone way in the back stand up. Then another person would stand. And another.