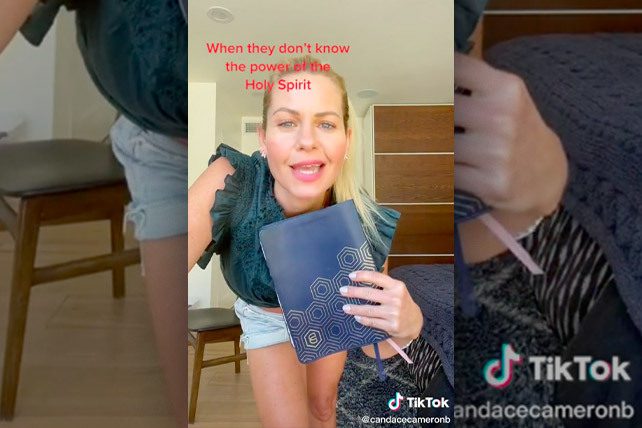 Social media posts can be tricky, especially for high-profile Christians. Actress Candace Cameron Bure found that out (again) this week, when a TikTok video she posted to Instagram sparked backlash from fans.
Unlike a previous incident, Bure apologized this time and removed the clip from Instagram. The outspoken Christian, who recently celebrated reaching 5 million followers, tells fans in an apology video, "Now I know what you don't like." The clip is still available on TikTok, where viewers received it more favorably, with some thanking her for using her "platform to share the word of God."
Candace Cameron Bure's Dancing Seemed Seductive to Some
In the brief clip, Bure lip-syncs some lyrics from Lana Del Rey's song "Jealous Girl," mouthing, "Baby, I'm a gangster too, and it takes two to tango. You don't wanna dance with me, dance with me." She sways and approaches the camera before picking up a Bible—her bestselling "One Step Closer Bible" from Dayspring—and gazing at it. The video's caption reads, "When they don't know the power of the Holy Spirit."
Bure, 45, explains in the apology video that she'd been imitating her 22-year-old daughter's post but wanted to do a faith-based version to convey that "nothing can trump the Holy Spirit." But it fell flat among most of her Instagram audience, based on their negative comments.
"I usually don't apologize for these things," Bure says, "but a lot of you thought it was weird, and I'm sorry. That was not my intention. I was using a very specific clip from TikTok and applying it to the power of the Holy Spirit, which is incredible."
She continues, "And so many of you thought that I was trying to be seductive, which clearly means I'm not a very good actress because I was trying to be strong, not sexy or seductive. So I guess that didn't work."
Bure, known for her role as D.J. Tanner on "Full House" and "Fuller House," adds, "Maybe I was just trying to be too cool or relevant in a biblical way that didn't work. Anyway, most of you didn't like it, clearly. But there was a small percentage of you that appreciated what I did and understood my intention. But anyway, it's gone."
When Christian Celebs Run Afoul of Their Followers
Last November, Bure made headlines when fans were offended by a photo she posted. In it, her husband of (now) 25 years drapes a hand across her chest. Speaking on a podcast shortly afterward, Bure said she was "actually not sorry" for posting the image. "I'm glad we have fun together after so many years," she said, adding that her husband, former NHL player Valeri Bure, "can touch me all day long."
Candace Cameron Bure said sex within marriage isn't shameful and should be celebrated. "Sex is the blessing of marriage," she said, "and I hate when Christians are like, 'No you have to pretend like you never had sex!'"
Another Christian performer who recently faced backlash on social media is singer Matthew West. After his "Modest Is Hottest" music video sparked an online debate about purity culture and whether it's toxic, West removed it. The intention was satire, he said, adding that he didn't mean to offend anyone.