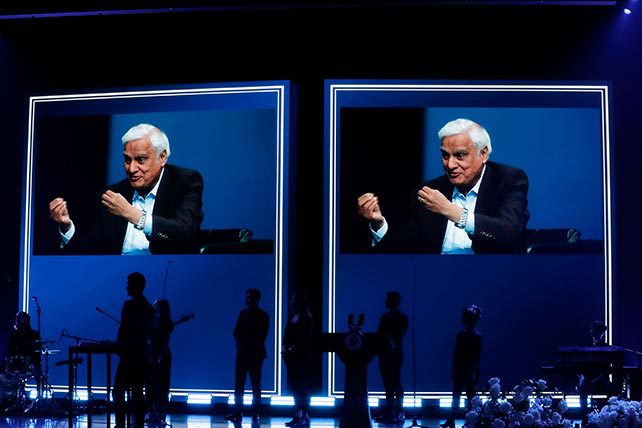 (RNS) — Donors to Ravi Zacharias International Ministries [RZIM] — including an NFL player — are suing the troubled nonprofit for allegedly covering up its founder's abusive behavior.
A complaint in federal court for the North District of Georgia alleges donors to RZIM were told Ravi Zacharias, the group's founder, was a trustworthy Christian apologist and their donations would be used to promote "Christian evangelism, apologetic defense of Christianity, and humanitarian efforts."
But those donors were misled, according to the suit.
"Defendants bilked tens — if not hundreds — of millions of dollars from well-meaning donors who believed RZIM and Zacharias to be faith-filled Christian leaders," the plaintiffs allege. "In fact, Zacharias was a prolific sexual predator who used his ministry and RZIM funds to perpetrate sexual and spiritual abuse against women."
Zacharias, who died of cancer in 2020, was a legendary Christian apologist, who traveled the world defending the Christian faith. His books on apologetics were cited by celebrity pastors and politicians. Former Vice President Mike Pence and college football star turned Christian celebrity Tim Tebow spoke at his funeral.
Not long after Zacharias' death, allegations of serious sexual abuse surfaced.
The lawsuit is built largely on the findings of a 2021 report commissioned by RZIM, which detailed a pattern of sexual abuse by Zacharias.
The abuse included groping workers at a spa he co-owned and asking them to massage his genitals and then praying for them.
The report also found Zacharias had explicit photos of women on his cellphone and he used ministry funds to pay for massages during his travels.
RZIM leaders had been aware of alleged misconduct by Zacharias since at least 2017.
That year, Lori Anne Thompson, a Canadian supporter of RZIM, accused Zacharias of spiritual abuse and sexting, alleging he had groomed her by pretending to minister to her and then asked her for nude photos and engaged her in explicit online conversation.
Zacharias denied the allegations and sued Thompson and her husband. The suit was later settled, with Zacharias paying $250,000 and requiring the Thompsons to sign a nondisclosure agreement.
The class-action suit alleges RZIM's board failed to properly investigate Thompson's allegations. By failing to do so, the board allowed Zacharias' abusive behavior to continue. The complaint cites a 2021 letter from RZIM's board of directors, in which RZIM's leaders admit they failed to hold Zacharias accountable and failed by not conducting an investigation into Thompson's allegations.
"RZIM's actions and failure to respond appropriately to reports of Zacharias's sexual misconduct furthered the public deception that Zacharias was a faith-filled, moral, and upstanding Christian leader. RZIM's acts and omissions further allowed Zacharias to continue sexually abusing women under the cover of Christian ministry and permitted Zacharias's ongoing, deceptive fundraising efforts for RZIM," the complaint alleges.
RZIM did not immediately respond to requests for comments.
Thompson told Religion News Service she was not aware the lawsuit was being filed and had no connection to it. She told RNS she believed RZIM's leaders had breached public trust and the board should be held accountable.