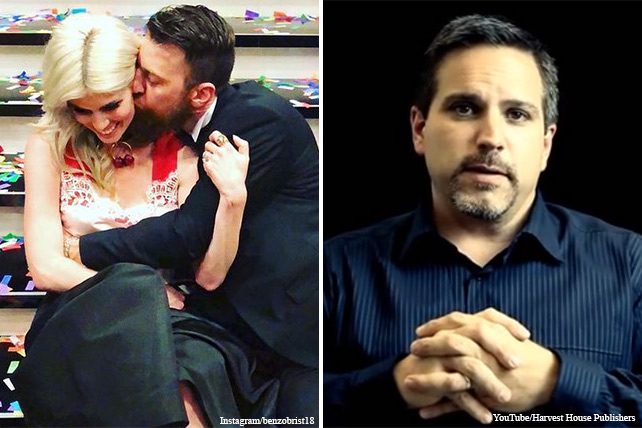 Ben Zobrist, the 2016 Chicago Cubs' World Series MVP and devout Christian, dropped his lawsuit against Byron Yawn, a former pastor and elder at Community Bible Church in Nashville. Yawn is the current CEO of a Nashville-area business-consulting firm named Forrest Crain & Co. Yawn previously worked for Zobrist's charity.
Yawn was once the trusted friend, spiritual mentor, pastor, and pre-marital counselor for Zobrist and his Christian pop-singer wife Julianna. Zobrist discovered the married pastor was having an extramarital affair with his wife in 2019.
Robin, Yawn's wife, found a burner phone Julianna Zobrist and Byron Yawn were using to conceal their secret relationship. Mrs. Yawn reportedly told the baseball star about the affair when Julianna would not.
The news was so devastating for Ben that he was unable to return for the last four months of season, instead dedicating his time to work on the marriage. The Zobrists, who have three children, sought marital counseling in an attempt to repair their marriage.
Zobrist's time away from baseball during 2019 resulted in him forfeiting nearly $8 million dollars of his salary. At the start of the 2020 season, after 14 seasons in the major leagues, Zobrist announced his retirement.
Related article: Julianna Zobrist, Christian Influencer and Author, Responds to Estranged Husband's Accusations
The two-time World Series Champion filed a lawsuit against his former pastor on May 6, 2021, seeking $6 million in damages. The complaint said Yawn, "usurped the ministerial-counselor role, violated and betrayed the confidence entrusted to him by the plaintiff, breached his fiduciary duty owed to the plaintiff and deceitfully used his access as counselor to engage in an inappropriate sexual relationship with the plaintiff's wife."
Christopher Bellamy, Yawn's attorney, responded by saying, "At the end of the day, a woman has the right to choose who she wants to be with."
The suit cited that daily conversations between Yawn and Julianna starting taking place in August 2018, and one month later an intimate relationship began.
Zobrist recalled one occasion when he texted Yawn before he knew about the affair to let his then-friend and spiritual mentor know that Julianna had spoken to a divorce lawyer. The former pastor responded with: "That's heavy, friend. Yawns love you and your family. Whatever you need. Whatever you need to do. Grace."
Court documents state that Zobrist claims Julianna threw a $30,000 retirement party for Yawn when he stepped away from leadership at Community Bible Church in December 2018. The document also reveals Julianna admitted to lying to her husband about her sexual relationship with Yawn.
Related article: 12 Habits That Lead to Divorce…and How to Avoid Them!
Yawn was also accused of stealing from Zobrist's Patriot Forward Charity.
Zobrist Drops Lawsuit Against His Former Pastor
On Thursday the Chicago Tribune reported that Zobrist had dropped the lawsuit against his former pastor voluntarily and "without prejudice," which allows him to refile the lawsuit in a year if he desires to do so.
Bellamy shared that Mr. Yawn and Zobrist's soon-to-be ex-wife consider themselves a couple and are in a healthy and emotionally secure relationship.