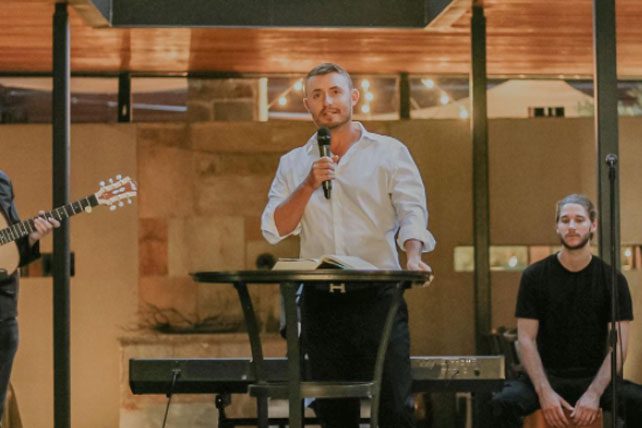 Mint Dentistry owner Dr. Field Harrison and his wife Sabrina recently launched Amen Church in Dallas, Texas. The new church will consist strictly of volunteers and will not pay any of its pastors or staff.
The successful dentist shared with WFAA News that he answered God's call to start a church after he experienced severe ringing in his ears resulting from tinnitus. Harrison believes this was a sign from God, saying, "My ears started ringing out of nowhere…I really had felt called to [start a church] before then, but when my ears started ringing I just knew this was the time."
Harrison has rented the 2000 seat Meyerson Symphony Center for a year to host Sunday worship services, a place were Harrison says God planted a seed in his heart when they visited the symphony years ago. Their first service was held on on October 3, 2021.
Sabrina shared how reading the Bible helped them decided on the name Amen Church. She said, "That's the one consistent word I read everyday. It's actually one of the names of God, so it was a no brainer."
Amen is not often referred to as a name for God. Theologian and pastor Kevin DeYoung explains it to mean "let it be," "so be it," "verily," or "truly."
"We want to really change the reputation of the church to where people can't ever say that this church is self-serving [or] self-promoting," Harrison said in reference to the fact that Amen Church doesn't have a paid staff.
Related article: TN Church Sees Over 1,000 Baptisms in Four Months–'Prayer Births Revival'
Amen church will give all donations to the church back to the community while being 100 percent transparent to where that money goes. Harrison explained, "Right now, we're planning on listing how much in donations we got that week and were we gave it that week."
"We're just really trying to get our feet and hands dirty and just be there to serve and help," Sabrina said. "And meet every need we possibly can."
The couple understands that the model for their church plant is unconventional but told WFAA News that their vision is to reach those who feel disenfranchised by the Church.
A post on the church's Instagram says, "When God asks us to do something, one small act of obedience brings the blessing. We don't realize what our daily act of obedience will do, until we step out in faith, and trust God to do the impossible. When we embrace our weaknesses, God releases His grace. His grace is enough! He is faithful!"
Field and Sabrina Harrison say that they are not interested in growing a brand but instead growing Jesus' Church.
"We are creating a place where people can meet with Jesus, while we share the love of God and the truth of the Gospel," the church's website explains.
Harrison is quoted on Amen Church's website as saying, "You don't have to be a pastor to grow the Church. Every believer of Jesus is called to do that." A statement from Sabrina says, "We are simply the messengers, here to bear witness to the Word we have received – the Gospel of Jesus."