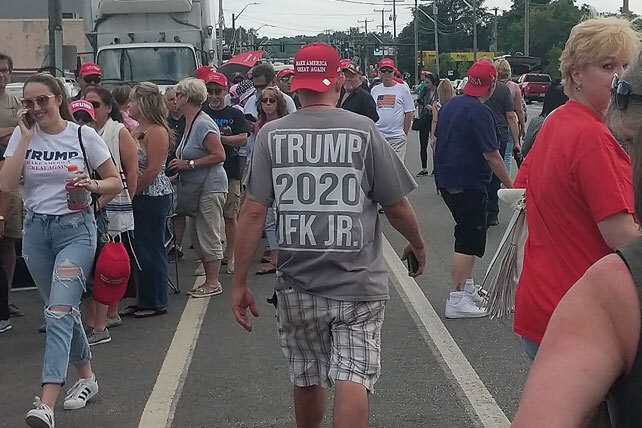 On Tuesday (Nov 2), hundreds of QAnon conspiracy theory believers gathered at the assassination site of President John F. Kennedy to await the return of his son, John F. Kennedy Jr., who died in 1999.
According to reports, many of those at the gathering were regular churchgoers and see their adherence to QAnon conspiracy theories as an integral part of their faith. 
QAnon Theory About JFK Jr.'s Return
According to a QAnon theory, as reported by Dallas Morning News, JFK Jr. was set to unveil himself around 12:30pm at Dealey Plaza in Dallas, TX, on Tuesday. It was believed that Kennedy would assume the role of vice president once President Donald Trump was reinstated. A common claim among QAnon believers is that the 2020 election was falsified and that Trump will soon return to the presidency. 
QAnon supporters believe that once Trump is reinstated with JFK Jr. as his vice president, Trump would step down, making Kennedy president. Former National Security Advisor Michael Flynn would assume the role of vice president, and Trump would become a "king of kings."
Kennedy tragically died at the age of 38 with his wife and sister-in-law in a plane crash in April of 1999. Their bodies were recovered by the Coast Guard and identified three months later.
RELATED: I Believe! … In QAnon? What Nonbelievers Don't Get About Conspiracy Beliefs
QAnon believers expected Kennedy, who they say faked his death, to return to the location where his father was killed in 1963. While JFK Jr. never held public office, he did campaign for family members who served the Democratic Party as late as 1994.
Journalist Steven Monacelli captured video of the QAnon gathering in Dallas, where those in attendance can be heard reciting the pledge of allegiance while waiting for JFK Jr.'s appearance. In another video, attendees can be seen chanting "Let's go fake news," in response to the presence of local reporters. The video was taken after the 12:30pm reveal time had passed without any sign of Kennedy.
Churchgoers Comprised a Large Portion of the QAnon Gathering
Ruth Graham, national correspondent at The New York Times, attended the event, which did not have any formal programming, though many in attendance wore Tiffany blue to honor the late Jackie Kennedy, Mary Magdalene, and the dress that Melania Trump wore while meeting Michelle Obama at the White House in 2017.
Graham reported, "Almost everyone I spoke with brought up religion without my asking. 'We are living in biblical times,' 'God sent us,' 'It's biblical and it's about Jesus,' and on and on. Most are regular church-goers."
RELATED: US Intel Report Warns of More Violence by QAnon Followers
"Neither Kennedy showed up at the appointed time, though there was some confusion with the time zone of the prediction," Graham added, referring to JFK and JFK Jr. "Many attendees held out hope for the Rolling Stones concert tonight, where Michael Jackson is rumored to be making an appearance." Given the bizarre nature of QAnon theories, it is unclear whether the last part of her Twitter thread was a joke.