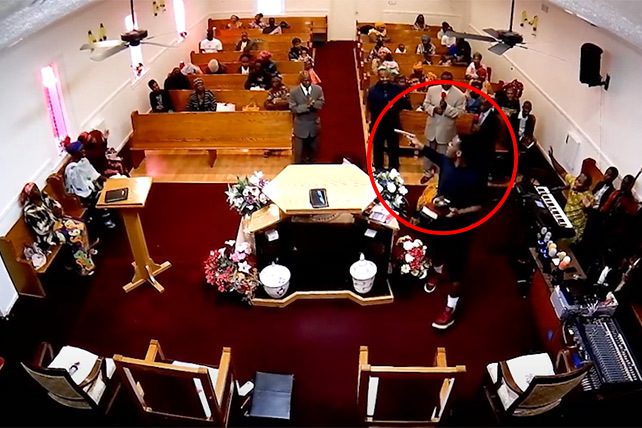 This pastor Sunday (Nov 7), Nashville Light Mission Pentecostal Church's pastor Ezekiel Ndikumana tackled a man who took the stage, pulled out a gun, and started pointing it at congregants during the pastor's altar call.
The gunman, who has been identified as 26-year-old Dezire Baganda, currently faces up to 15 charges of felony assault and will likely be given additional charges, according to Metro Nashville Police Department.
Baganda had been sitting in the front pew before walking up to the pulpit and pulling out a gun, pointing it at the men, women, children, and infants in the pews. Mere moments after Baganda threatened the church, he was apprehended by the pastor before he could harm anyone.
Ndikumana had just stepped away from the pulpit to the front row, because he was giving an altar call. Congregants were praying when Baganda made his move. In a surveillance video, Ndikumana can be seen slipping out a side door to get behind the stage. Ndikumana then tackled Baganda, wrapping his arms around Baganda's and forcing him to the ground.
Multiple church members then assisted Ndikumana by taking the gun away from Baganda and holding him down until the authorities arrived.
Choir member Nzojibugami Noe, who was also in the front row, told WKRN News 2 that "no one was behind [Baganda] yet, so he could have done anything," implying that the outcome could have resulted in fatalities.
RELATED: Pastor Found Fatally Shot While Holding Bible After Teaching Sunday School
Suspecting that the gunman had intent to kill, Ndikumana recalled the incident by saying, "I would say that God used me, because I felt like I was going to use the back door…and then I felt the feeling that I would go and grab him — and that's what happened."
WKRN News 2 reported that church members credit their pastor with saving the lives of the 40-plus people who were attending the service on Sunday. However, Ndikumana explained that their lives were in God's hands and not his own, saying, "God wanted to show that he's a powerful God. One main thing I said, we had faith."
In another interview, Ndikumana said that God helped him, because he knows nothing about tackling an armed gunman. The pastor's daughter said, "To hear that [God] was the one protecting him, I'm very happy because it could have went really bad."
Baganda is not a church member but has attended the church off and on. Last February, he was asked to stop attending, because he frequently disrupted the church service while pastors were preaching. This was the first time he had ever shown any violence.
During his arrest, Baganda said that he was Jesus, and that all churches and schools need to be "shot up."
Watch the raw video footage of the attempted attack provided by WKRN News 2 below: