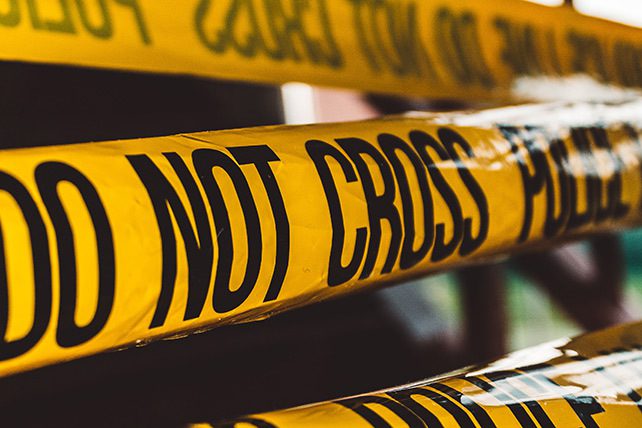 This past Sunday, November 14, 2021, the Portland Church of Christ located in Louisville, Kentucky experienced a similar incident to one that occurred at a Nashville, Tennessee church the Sunday prior when a gunman attempted to steal the collection plate. The congregants of the church acted quickly to apprehend the young assailant.
Louisville Metro Police Department (LMPD) reports that congregants at the Louisville church tackled a teenage boy who pulled out a gun and attempted to steal the offering plate after the money had been collected.
The juvenile entered the church around 11 a.m., during the sermon. The boy then approached the altar where the filled offering plate was sitting, grabbed it, and attempted to flee.
As the teen ran down the side aisle, he pulled out a gun and made an effort to fire it into the air. But before he could discharge the weapon, congregants tackled the young man. Struggling to get away, the teen bit some of those who were attempting to take his gun. They held him down until police officers arrived. The unidentified teen was arrested, and authorities are investigating the incident.
"It's just one thing after another right now — in Louisville and all across the United States — the youth are in trouble," John Brown, a local convenient store owner, told WLKY News.
RELATED: 'We Had Faith': TN Pastor Tackles Gunman During Church Service, Saving Many Lives
"I would say that I'm just kind of shocked that that would happen at a church. I really don't have the real words to say how shocking that is," Metro Council President David James shared.
On Tuesday, Portland Church's pastor posted a message to the church's Facebook page, writing, "Wanted to take the opportunity to thank all of those who have shown concern and offered support for the incident our church experienced in the last week. Also wish to thank God for His grace and keeping everyone safe. We are looking forward to regularly scheduled worship services this Sunday at 11:00 am and EXCITED about welcoming you to worship with our church family."
Gunman Tackled at Nashville Church
On November 7, 2021, a gunman walked behind Nashville Light Mission Pentecostal Church's pulpit during an altar call. Dezire Beganda, a sporadic attender of the church, brandished a gun and threatened congregants. It was then that pastor Ezekiel Ndikumana quietly slipped behind Beganda and tackled him before he could fire the weapon.
Other church members then jumped on Beganda, wrestling his gun away from him. They held him down until police arrived.
RELATED: TN Church Holds Worship Service One Week After Pastor Thwarts Gunman's Violent Plans
A police report later revealed that Beganda had lethal intent. He could be heard claiming to be Jesus and saying that all churches and schools need to be "shot up."