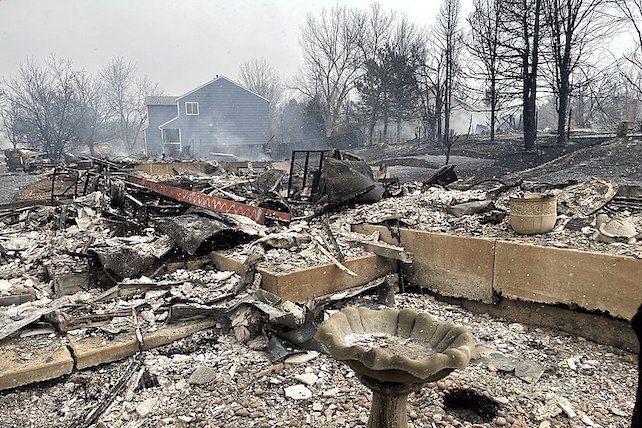 The investigation into the cause of wildfire that devastated Boulder County in Colorado last Thursday has drawn attention to property owned by a Christian sect called the Twelve Tribes. A shed on the group's property in Boulder, Colo., was reportedly aflame before the wildfire took off. 
"The investigation into the cause of the fire is ongoing," said Boulder County Sheriff Joe Pelle in a press briefing on Monday, Jan. 3. "It's being supported by experts from the Forest Service, who are experienced and highly talented in investigating major fires in other states. And I don't have any updates on that investigation right now other than to say it is in full force and full swing." 
When asked if the Twelve Tribes property was part of the investigation, Pelle responded, "It is and it will be and that is widely known and understood. So is the area around it. So we haven't eliminated or honed in on any one specific thing. It's an open investigation, we're going to do it right, it's going to take some time." The sheriff noted the investigation will be extended and require patience. "We're going to take our time and be methodical," he said, "because the stakes are huge."
Twelve Tribes Under Scrutiny
The Marshall and Middle Fork fires, some of the most calamitous in Colorado's history, appear to have started the morning of Thursday, Dec. 30. The wildfire spanned over 6,000 acres and destroyed more than 900 homes. Around 34,000 people had to evacuate the area, and many have not yet been able to return.
Pelle said that teams are assessing the safety of re-entry and that people can check online for regular updates. Authorities are still trying to locate two missing people, which is "very, very difficult work" due to debris, heat, and the need to work by hand with small tools. 
While it is not disputed that a fire started on property owned by the Twelve Tribes, it is not clear if that fire was the source of the wildfire or if there were another cause. ChurchLeaders has reached out to the Twelve Tribes for comment and will update this article in the event of a reply. 
The Twelve Tribes movement was founded by Eugene and Marsha Spriggs, who started a Bible study for youth in Chattanooga, Tenn., in 1973. Some attendees lived with the Spriggs, who had a coffee house ministry and also opened a restaurant called The Yellow Deli. 
The Spriggs began holding their own services after the church they had been attending, First Presbyterian Church, cancelled services for the Super Bowl. Eugene Spriggs, who had never been ordained, performed baptisms. At the time, they called their ministry Vine Community Church. Members began to face opposition from their community during the latter half of the 1970s, with some labeling the group a cult.