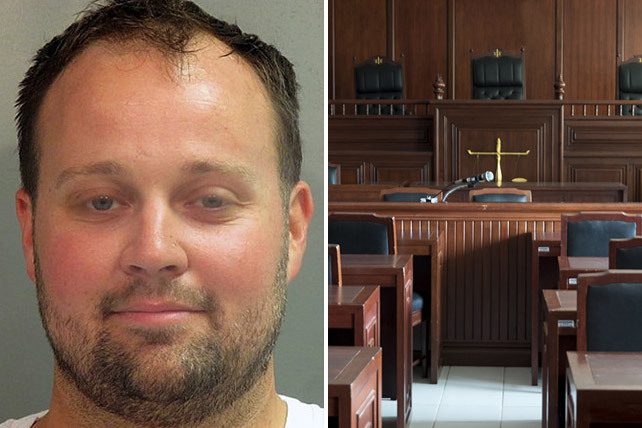 The defense team for former reality star Josh Duggar has requested that Duggar be acquitted or receive a new trial after his conviction on two counts related to child pornography. The defense is basing their request on the allegation that important evidence was withheld from the defense team until just before the trial.
In December, Duggar, 33, was found guilty on one count of receiving child pornography and one count of possessing child pornography. Now his defense is arguing that they were unfairly disallowed from bringing forward a key witness in Duggar's trial. Duggar's attorneys filed the motion on Wednesday.
During Duggar's trial, his defense had argued that Duggar had been set up by a hacker, who accessed the computer to download child pornography on several occasions between May 14 and May 16, 2019. The defense had called a forensic investigator as a witness who characterized the incidents as a "hit and run" hacking scheme. Ultimately, the jury remained unconvinced by the possibility that someone other than Duggar could have downloaded the illegal content onto his computer and delivered a guilty verdict. 
RELATED: Josh Duggar Found Guilty of Possessing Child Pornography
The witness that Duggar's defense is now looking to is a former employee of Duggar's, who is also a registered sex offender and who the defense contends used Duggar's work computer regularly. 
While federal officials had previously questioned and cleared the employee, the defense says that the former employee sent an "unprompted" email to prosecutors, saying that he had been "completely mistaken" when he told them that he hadn't been at Duggar's used car lot in Arkansas in May 2019. The email, which also contained travel receipts, placed the former employee in Arkansas from May 8 to May 11, which was several days before the illicit content was downloaded to Duggar's computer.
RELATED: Josh Duggar's Sister and Her Husband Call Verdict 'Just'; Other Family Members Respond
The motion also alleged that this former employee had revealed to prosecutors that he possessed the passwords to several of the Duggar siblings' social media accounts. The defense says that prosecutors had withheld this possibly exculpatory evidence until three days before the trial began. The defense's case revolved around establishing that multiple people had access to Duggar's work computer and passwords and that no sexually explicit content had been found on his personal devices. 
"In this case, Duggar was deprived of materially exculpatory evidence until the evening before the Government rested its case," Duggar's defense attorneys said to Insider. 
RELATED: 'We Fear for His Soul'—More Duggar Family Members React to Guilty Verdict
Duggar is currently incarcerated in the Washington County Jail as he awaits sentencing. While no sentencing hearing has been set, Duggar could face up to 40 years behind bars should his motion fail.
RELATED: An Honest Mistake': Jessa Seewald Defends Sister Jana Duggar