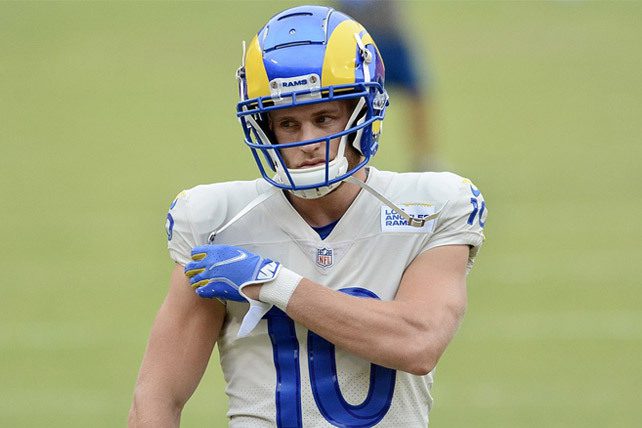 Thanks to a record-breaking "triple crown" season, Cooper Kupp has helped position his team to win a Super Bowl ring. But the Los Angeles Rams wide receiver has his sights set much higher.
Kupp, 28, is an outspoken Christian who literally wears his faith on his sleeve—and head. After a Rams playoff victory last month, Kupp donned a hat from his "Crown Merch" fashion line that references 1 Corinthians 9:25—"Do it to get a crown that will last forever."
Cooper Kupp Remains Humble, Faithful Despite Success
Kupp, a third-round draft pick in 2017, was recently named to his first Pro Bowl. That honor caps a stellar season in which Kupp became the first 2,000-yard receiver in NFL history. He's also the fourth player since 1970 to win the receiving Triple Crown, finishing the 17-game regular season with 145 catches, 1,947 receiving yards, and 16 receiving touchdowns.
In post-game press conferences, Kupp deflects credit to teammates and is open about his faith. After a reporter inquired whether the standout athlete felt underappreciated, Kupp replied, "The verse that was on my mind was, 'The heart of man chooses his path but the Lord establishes his steps,'" citing Proverbs 16:9. "It just gave me so much freedom to go out there and play free, give everything I had [and] know the results rested in [God]."
Kupp also has relied on his faith amid injuries and rehab. Due to a torn ACL, he was sidelined when the Rams played in the 2019 Super Bowl, losing 13-3 to the Patriots. On Twitter in 2018, Kupp posted a photo of him being carted off the field. "Rejoice in your suffering, for through suffering comes perseverance!" he wrote. "Thank you all for your prayers, we are blessed by your covering. I refuse to be defeated! God is GOOD! #EyesAbove."
In a film for Football Sunday 2019, Kupp said of his healing process, "Being able to every day find that joy in life that only comes from the Spirit—there's growth happening." To CBN last year, Kupp said, "At the very basic levels of my life—as a husband, as a father, as a football player—knowing how much of a failure I am at these things, if it wasn't for my faith, if it wasn't for knowing that Christ has told me who I am in his eyes…that he's bridged every gap and that he's called me to even greater things."
Faith and Family Are Priorities for Cooper Kupp
In a recent ESPN profile, Kupp credits Anna, his wife of six years, for his pro career. During college at Eastern Washington, Anna worked full-time so Cooper could focus on football. "I really believe I may not be…in the NFL if it wasn't for her and what she has inspired in me and pushed me to do," Cooper says. The couple, who have two young sons, are active in charity causes.