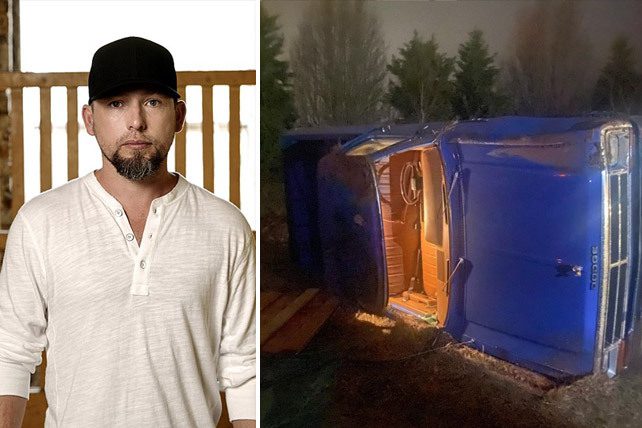 We Are Messengers frontman Darren Mulligan shared on Instagram Friday that he was in a serious car accident on his way to a show in Greeley, Colo. But even though his car flipped and then rolled three times, Mulligan survived and was even able to participate in the Christian band's first concert of 2022.
"I'm Ok. I promise," Mulligan posted to Instagram after the accident. "In fact I'm on an airplane going to our first show of the year in Greeley Colorado…I am a very grateful man, more than ever and I'm convinced this too is the goodness of God in my life."
View this post on Instagram
Darren Mulligan: God Is 'Unbelievably Kind'
We Are Messengers is an Irish American band whose members released their debut, self-titled album in 2016. The band's second album came out in January 2020, and the latest, "Wholehearted," was released in October 2021. 
Darren Mulligan, guitarist and the band's lead singer, was driving to the airport in Nashville, Tenn., during an ice storm early on Feb. 4 when he drove over a bridge covered with ice. The singer explained in a Facebook Live video that the accident happened about 10 minutes after he had left his house. "My truck lost all traction," he said, "slid across both lanes, down through the verge separating east and west highways." Mulligan said he thought the grass in the median would slow him down, but, "it didn't. It was all frozen solid." Instead, the car began going faster until it was on the opposite side of the freeway and heading toward oncoming traffic.
"At that point I knew that I was going to hit somebody if I kept trying to stop myself from crashing," said Mulligan, " and I didn't want anyone else to be hurt. So I just turned that wheel as far as I could." His car flipped and then rolled three times before it stopped, leaving the singer hanging from his seatbelt. He managed to get out of the car and, while he is a "bit sore," Mulligan said he is otherwise unscathed, with no scratches anywhere on his body. 
"It is a miracle that I'm alive," said Mulligan. "[Ten] seconds before the accident I had been talking with Jesus and I said out loud 'my life has always been in your hands and it still is'. I guess God put that to the test and He has once again proved Himself unbelievably Kind."
One of the ways that God showed his kindness to the singer was through a young man named Efrain who stopped to help him after the accident. Mulligan said that Efrain was the driver of the vehicle he saw just before he flipped his car. "Everything that is good about this country could be found in that young fellow," said Mulligan. "His was the car that was coming the opposite direction. Efrain was so kind to me, his only thought was to make sure I was ok." 
Efrain had been on his way to work, but got permission to take time off. "He drove me to the airport so I could go about the work God has called this band to," said the singer, who ended his post with the hashtag #ComeWhatMay.