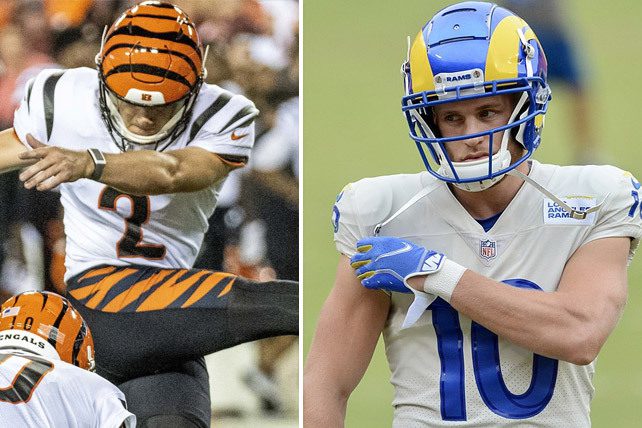 After the confetti falls Sunday at the close of Super Bowl LVI, the victors will accept the coveted Lombardi Trophy. But for some Cincinnati Bengals and Los Angeles Rams players, pursuing a deeper relationship with Jesus takes priority over football.
The big game kicks off February 13 at SoFi Stadium in Inglewood, Calif., the Rams' home field. Here's a look at a few notable Christian athletes who will represent their teams—and their Savior—on football's biggest stage.
Super Bowl LVI's Christian Players
Super Bowl LVI: Cincinnati Bengals
As ChurchLeaders has reported, Bengals kicker Evan McPherson glorifies God through his words and apparel. The athlete, 22, frequently references Bible verses or his faith in his social media posts. The only kicker selected in last year's NFL draft, McPherson has been key to the Bengals' playoff run, helping the team break a 33-year Super Bowl drought.
Bengals defensive end Trey Hendrickson, whose career-high season included 14 sacks, expressed "thanks to my Lord and Savior, Jesus Christ" upon being named to his first Pro Bowl. Hendrickson, 27, lists Galatians 6:9 in his Instagram bio and shares a link to Matthew 25:Ministries, a local faith-based group.
Defensive back Michael Thomas had a whirlwind year, from being unsigned in September to joining the Bengals' practice squad a few weeks later. On a new episode of the Sports Spectrum podcast, Thomas, 31, says, "God's plans are far greater than ours," adding that he "wasn't stressing" when he was unsigned. "I wouldn't want to be a part of any other group," he adds about the Bengals. "I'm so glad God graced me with this experience."
Another Bengals player who's open about his Christian faith is Akeem Davis-Gaither. Last summer, the linebacker was baptized by pastor and former NFL player Derwin Gray. On an Instagram post about his baptism, Davis-Gaither writes: "After 23 years I am so proud to have given my life to Christ and Received the gift of new life! God has done wonderful things in my life, picked me up from my lows and humbled me at my highs. Every step of my life, God has blessed me in so many ways. I'm blessed that i'm able to share his love and let my life be a testimony of his unwavering love for us all."