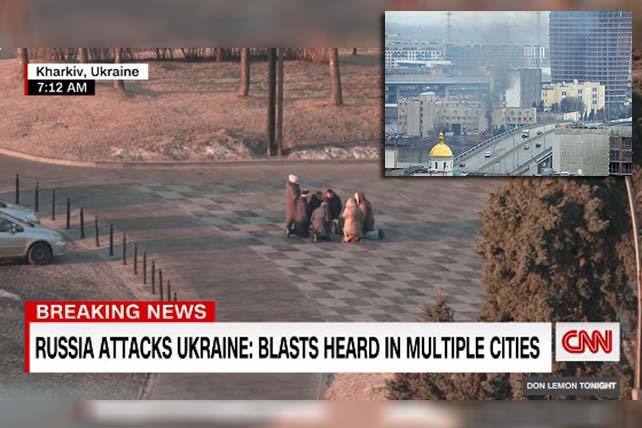 Russia launched their anticipated and unprovoked full-scale military attack on Ukraine, a country in Eastern Europe, Thursday morning.
ABC News reported on Thursday that at least 40 people had been killed and several others injured, a number expected to rise rapidly throughout the day.
"We will give weapons to anyone who wants to defend the country," Ukrainian President Volodymyr Zelensky tweeted. "Be ready to support Ukraine in the squares of our cities."
Videos of civilians fleeing for safety by car, bus, and train can be seen on the internet as Russian forces attack from multiple different fronts. In one video, a father can be seen crying as he tells his family good-bye while placing them on a bus headed to a safe zone.
RELATED: 'Heartbroken' Christine Caine Asks for Prayers for Ukraine; Franklin Graham Criticized for Asking for Prayer for Putin
Another video of an airstrike shows a fighter jet launching a rocket near a house with civilians inside. Terrified screams from a young child could be heard as the rocket's explosion shook the house.
A video captured by CNN during a report by Clarissa Ward in Ukraine shows a small group of Ukrainians kneeling and praying in the street of Kharkiv behind Ward. "It's freezing cold here, so to see these people kneeling on the cold stone in prayer is—honestly—very moving," Ward said.
CNN's Clarissa Ward reports from Kharkiv, Ukraine, where she witnesses a group of people gather to kneel and pray in the town square in the hours following Russian President Vladimir Putin's announcement of a military operation in Ukraine https://t.co/h2PihF08i8 pic.twitter.com/efXZkWoPs6

— CNN (@CNN) February 24, 2022
Christians and Church Leaders React
A number of church leaders and Christians have reacted to the events of the day on social media, many of them urging people to pray for Ukraine. SEND Relief created a "Ukraine Prayer Guide" that gives specific ways people can pray for all who are involved.
Samaritan's Purse's CEO Franklin Graham asked people to pray for Ukraine and that the conflict would end quickly. Graham shared that he has many friends in Ukraine and Russia and that he has preached in Kyiv and Lviv. Samaritan's Purse "works with over 3,000 churches across Ukraine, and we are in the process of distributing over 600,000 gift-filled Operation Christmas Child boxes for children through those churches and ministry partners," he said.
"There is so much fear and uncertainty," Graham concluded. "Many Ukrainians are fleeing their homes toward the west. These families need our prayers."