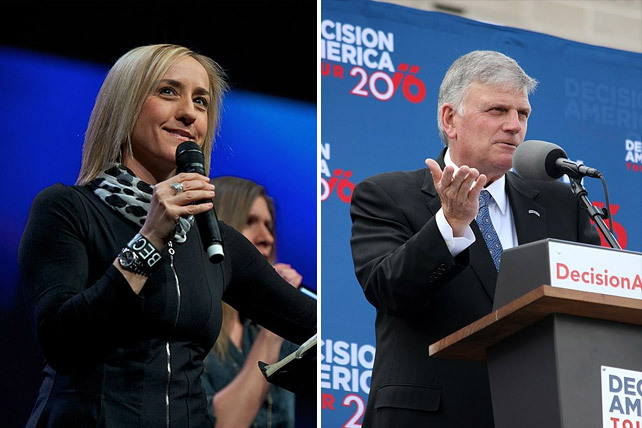 Among the many believers calling for prayer for the current Ukraine crisis are Christine Caine and Franklin Graham, the latter of whom has drawn criticism for asking for prayers for Russian president Vladimir Putin. 
"Pray for President Putin," said Franklin Graham, president of Samaritan's Purse and the Billy Graham Evangelistic Association. In a Feb. 18 Facebook post, Graham said, "This may sound like a strange request, and I might get some angry comments, but we need to pray that God would work in [Putin's] heart so that war—and the loss of thousands of lives—could be avoided at all cost. May God give wisdom to the leaders involved in these talks and negotiations, as well as those advising them. Our prayers might make the difference between life and death."
Ukraine Crisis: The World Watches Russia
The conflict between Russia and Ukraine dates back years, most recently to the Russo-Ukrainian War in 2014. Russia has been sending troops to the Ukrainian border since early 2021, but the build up to what appears to be imminent war has been progressing since the end of January. 
Russia currently has 150,000 troops along Ukraine's borders, reports AP News, "along with tanks, warplanes, artillery and other war materiel." In a speech on Monday, Putin recognized two Ukrainian territories as independent states, a move many European leaders are condemning as a violation of international law. There have been reports of violence in eastern Ukraine, and U.S. officials believe a Russian invasion is only a matter of time.
Many people commented on Graham's Facebook post saying that they were praying about the Ukraine crisis, although some criticized Graham for not requesting prayers for President Biden. Those criticisms were echoed on Twitter, despite the fact that Graham expressed hope that God would give wisdom to all leaders involved. One Twitter user pointed out that the Samaritan's Purse president has requested prayer for Biden in the past. 
Commentator David French defended Graham, saying, "I've had my criticisms of Graham, but attacks on him here are off base. This is Putin's war, if he chooses it, and praying that he would seek peace isn't merely justifiable, I think it's imperative. That's what I'm praying."
Propel Women and The A21 Campaign founder Christine Caine reposted a picture of Ukrainian nationals praying, and said, "I know & love so many people in this nation. I've been going for over 20 years. We have an office there. Would you join us in prayer? I'm heartbroken."