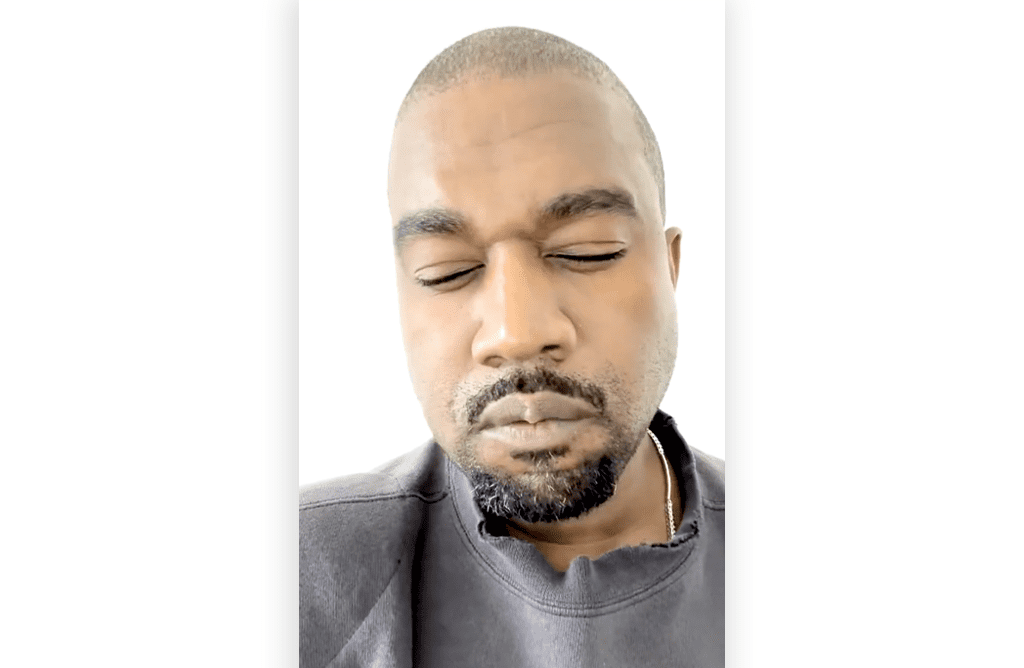 The very public custody dispute between reality star Kim Kardashian and the artist formerly known as Kanye West continued over the weekend when West posted a video to Instagram, wherein he prayed that his children would be able to attend his latest Sunday Service. 
The prayer, however, quickly turned into a public airing of his disputes with comedian Pete Davidson, who is currently dating Kardashian, as well as a political aside about none other than Hillary Clinton. 
In a series of Instagram posts from Sunday morning that have now been deleted, West expressed anger toward Kardashian for posting a video on TikTok, wherein their daughter, North, sang along to a Machine Gun Kelly song. Going on to argue that "Leftists" don't want fathers to have a say in their children's lives, West further expressed frustration that North would not be in attendance at his Sunday Service due to a sleepover she was having with friends. 
RELATED: Kanye West's Thanksgiving Prayer Goes Viral; Ye Admits He Was a 'Self-Righteous Christian'
In a later video, West said that he had received advice from fellow rapper Tory Lanez to "pray and ask for God to speak" through him. Saying that many people don't have a voice or the "opportunity to be able to speak up," West began his prayer. 
"God, if it is in Your will, you know, touch the people that are currently watching my children—whatever sleepovers, wherever they are at, the various nannies that watch all the children," Kanye prayed. "And touch them and say, 'Please bring my children to Sunday Service this morning at 10 a.m.'"
"This is out of my hands. It's up to You. This whole conversation of custody. This whole narrative, gaslighting, you know, all of this. It's like, right now, this is up to You," Kanye continued.
Going on to thank God for his ability to put on his Sunday Services, Kanye expressed his gratitude that he could have his children "be there to hear about God, to sing about God, to sing about Jesus Christ. For us to be able to have the first right, the freedom of speech in America to still talk about God out loud."
"This morning, God, please—you know, there's no reason why these young children, upon their father's request, shouldn't be allowed to come to Sunday Service," Kanye prayed. "At this point, it's going too far."
West then turned the focus of his prayer toward Pete Davidson, with whom West has also had a very public dispute. Earlier this month, West even released a controversial new music video wherein an animated claymation character, named "Skete" and whom many feel resembles Davidson, was kidnapped and buried alive. The lyrics of the song centered on West's divorce and custody battles, mixing in religious language and mentioning Davidson by name. 
"God, please—the boyfriend texted, antagonizing me, bragging about being in bed with my wife," Kanye prayed, referring to a texting exchange between the two wherein Davidson allegedly taunted West. "I thought publicly for a year and a half, how I've been dragged, and how she's not my wife, she don't have the last name. And now, he [is] texting me talking and bragging about how he's in bed with my wife. And I'm like, 'Well, who's watching my children if he's texting me bragging about being in bed with my wife?'"
RELATED: New Netflix Docuseries 'jeen-yuhs' Chronicles Kanye West's Belief in God and Himself