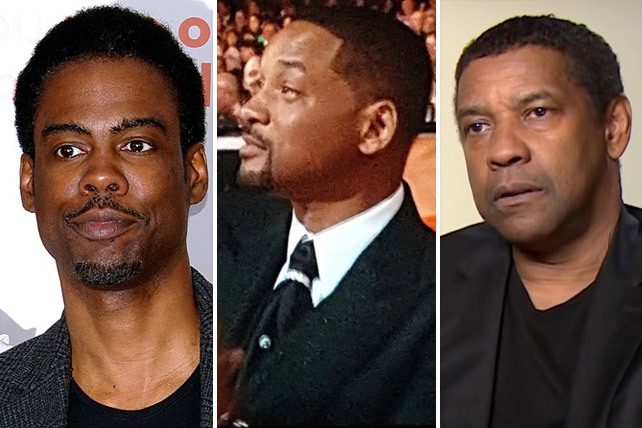 UPDATED March 29, 2022: On Monday evening, actor Will Smith issued a public apology to Chris Rock, saying he was "out of line" and "wrong" for slapping the comedian during Sunday's Oscars telecast. "I am embarrassed and my actions were not indicative of the man I want to be," he wrote on Instagram. "There is no place for violence in a world of love and kindness."
Smith called violence "poisonous and destructive," saying his behavior "was unacceptable and inexcusable." He acknowledged that "jokes at my expense are a part of the job," but says "a joke about [my wife] Jada's medical condition was too much for me to bear and I reacted emotionally." Smith also apologized again to the Academy, as well as to Oscars producers, attendees, and viewers. "I am a work in progress," he wrote.
Also on Monday, the Academy said it had launched a "formal review" of the incident. "We will explore further action and consequences in accordance with our Bylaws, Standards of Conduct and California law," the group announced, adding that it is "categorically opposed to any form of abuse."
---
Denzel Washington Counsels Will Smith After Shocking Oscars Slap: The Devil Attacks 'At Your Highest Moment'
ChurchLeaders original article written on March 28, 2022, below:
Hollywood—and much of America—is still buzzing about the violent act that overshadowed last night's Oscars. During what was a "complicated night" for Will Smith, the actor took the stage twice: once to slap comedian Chris Rock and later to accept the Best Actor trophy.
During a tearful speech, Smith referred to advice he'd just received from Denzel Washington, who's a Christian. Smith also spoke of wanting to "be a vessel for love."
Will Smith Slaps Chris Rock for Joke About Wife
Before presenting an award Sunday at the Dolby Theatre in Los Angeles, Rock made cracks about celebrities in the audience. But it was his comment about Smith's wife, Jada Pinkett-Smith, that hit a nerve. "'G.I. Jane 2,' can't wait to see it," said Rock, referencing her close-shaved head. Pinkett-Smith has shared she struggles with alopecia, an auto-immune condition that causes hair loss.
Smith then walked up to Rock and slapped him across the face, in what many people initially thought was staged. The U.S. telecast was muted as the two exchanged words. Smith twice ordered Rock to "keep my wife's name out of your [expletive] mouth."
Rock, who insisted he'd been joking, told the audience, "That was the greatest night in the history of television." According to police, Rock has declined to press charges against Smith.
The next speaker, Sean "Diddy" Combs, told Rock and Smith they would settle the dispute "like family" later. Meanwhile, fellow attendees huddled around the men. Journalist Tobí Rachel retweeted photos of actors Denzel Washington and Tyler Perry talking to Smith, writing, "Denzel Washington & Tyler Perry quickly holding an emergency community meeting like the church elders they are."