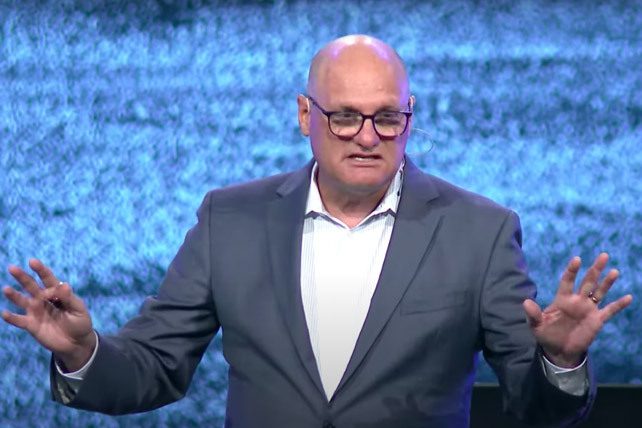 Days after disclosing, via video message, that a former deacon at his church had "committed a sexual sin that could also be described as abusive," Pastor Willy Rice addressed the controversy during Sunday worship. During his April 3 sermon at Calvary Church in Clearwater, Florida, Rice emphasized that the man had repented and that Jesus' blood washes away sins. "The world cancels people," Rice said. "Jesus cancels sin. There's a difference."
On Friday, April 1, Rice, one of several candidates to be the next Southern Baptist Convention president, described a past incident that led church leaders to "reevaluate" the deacon's role. The pastor emphasized that for years, the layperson had shown "genuine fruits of a repentant life."
According to Baptist News, the deacon was a high school teacher and coach in Tampa Bay in 2005. He admitted to having an inappropriate sexual relationship with an 18-year-old female student. No criminal charges were reportedly filed. Rice, in his video, emphasized that the man didn't serve in children's or student ministries at Calvary.
Pastor Willy Rice: Some People Are 'After Me'
During worship Sunday, Rice brought up the topic right before communion. "This week I had to share with you a tough announcement," he said, referring to Friday's video. "At some point I'll tell you the whole story," he added, assuring congregants that people are "not after our church; they're just after me."
Rice said, "Some people outside our church identified one of our brothers who's serving in a role in our church" in an effort to "score some points." Although the behavior in question occurred "almost 20 years ago" and "doesn't involve children," the pastor admitted it "was awful."
He then asked attendees: "You ever thought about your worst moment being put in the newspaper? I'm glad they didn't put all my bad moments in the newspaper, because they'd have to sell a lot of papers!"
When the man came to Calvary more than a decade ago, Rice said, he had "repented of that sin" and had changed his life thanks to "the grace of God." The pastor told worshipers, "I want you to know this about my brother: … If he's not saved, I'm not saved. If he's not forgiven, I'm not forgiven. If the blood of Jesus Christ is not enough to save him, then it's not enough to save me. And I'll tell you what else, it's not enough to save you either! But I want you to know that it is enough."
Willy Rice Should Withdraw From Race, Say Some SBC Pastors
Reaction to Rice's video announcement was swift, with several SBC pastors encouraging him to withdraw his name from the slate of presidential candidates. Indiana Pastor Todd Benkert tweeted Friday: "In this moment in SBC life, it is imperative that we elect a president who has a proper understanding of abuse and is able to show himself trustworthy to SBC abuse survivors." Benkert added that he had several follow-up questions for Rice, including whether "grooming" was involved.
"If you did not consider his sexual sin abuse, why the restriction on ministering to youth and children?" Benkert asks. He concludes by saying the video "raises some concerns about whether or not Rice has the right understanding of abuse dynamics to be the one who leads our convention in this moment."
After Rice's sermon was posted, Benkert tweeted: "No one is after you. We were planning to vote for you 3 days ago. No one is questioning [the deacon's] conversion or God's forgiveness of his sin. No one is canceling anybody. The issue is whether you understand the dynamics of abuse and its disqualification for leadership in the church."