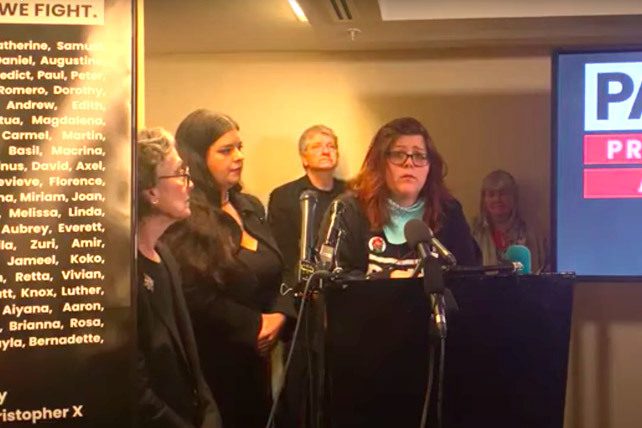 During a press conference this week, members of the group Progressive Anti-Abortion Uprising (PAAU) described how they recently obtained the remains of 115 fetuses from a Washington, D.C., abortion clinic. After burying 110, they say they informed police about the remaining five, which were larger and more developed.
Police are investigating the claims, which came days after nine PAAU members were indicted on federal charges stemming from a 2020 protest. Meanwhile the hashtag #JusticeForTheFive is spreading, and abortion advocates are attempting to discredit the pro-life group.
Progressive Anti-Abortion Uprising Founder: Unboxing Fetal Remains Was 'Soul-Crushing'
Terrisa Bukovinac, an atheist and leftist who founded Progressive Anti-Abortion Uprising last fall, says she and group member Lauren Handy set out to conduct advocacy work on March 25, the Day of the Unborn Child. Outside Washington Surgi-Clinic, they asked the driver of a medical-waste truck for a biohazard box he was loading. The driver appeared "visibly shaken" when they told him "dead babies" were inside, she says, and he agreed to hand over the box when they offered to provide proper burials.
At Handy's apartment, with a Catholic deacon present, Bukovinac says they removed 110 "mostly first-trimester" aborted babies, plus five bigger bodies—including a "nearly full-term" baby boy. "Not even years of anti-abortion advocacy could have prepared us for that moment," she says, calling it "the most soul-crushing experience of our lives."
PAAU members believe the remains prove the clinic violated a law against D&X abortions, but they couldn't find a private pathologist to confirm that. So they called in a whistleblower tip, and the local medical examiner collected the remains.
The Growing Contingent of Left-Leaning Abortion Foes
In a January Newsweek opinion piece, Bukovinac describes the "growing number of non-religious and progressive Americans who oppose abortion." The pro-life movement meshes with the "core beliefs of millennials and Gen Z" in several areas, she writes. Those include modern science, the abortion industry's "anti-feminist assumptions" and "economic interests," and a commitment to non-discrimination and equity.
"Our quest for justice as a movement relies on our ability to mobilize enough people power to non-violent resistance," Bukovinac writes. "We look forward to the day abortion is a distant memory of a late-capitalist past when profit mattered more than human lives."
Randall Terry, founder of Operation Rescue, introduced Bukovinac at Tuesday's press conference, calling her "one of the most courageous people I have ever met." He also lambasted Christians who don't fight abortion, comparing them to the priest and Levite in Jesus' parable of the Good Samaritan. Bukovinac and Handy, says Terry, "are living, breathing, walking rebukes to the cowardice and the self-love of the Christian community at large and clergy and leadership in particular."