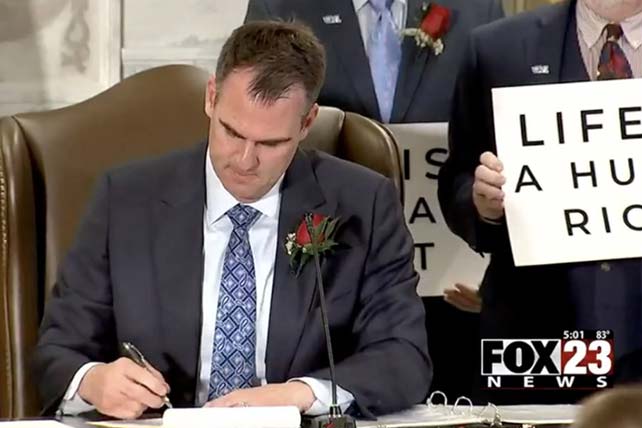 OKLAHOMA CITY (BP) – Oklahoma's enactment of a prohibition on abortion except to save the life of the mother received a grateful welcome from Southern Baptists at state and national levels.
Oklahoma Gov. Kevin Stitt signed into law Tuesday (April 12) the ban, which criminalizes the performance of an abortion or attempt to perform an abortion as a felony. If convicted, a person may receive a maximum prison sentence of 10 years and/or a fine of as much as $100,000.
Enactment of the Oklahoma measure is the latest state action on the issue in efforts by both pro-life and abortion-rights advocates to prepare for a pending decision by the U.S. Supreme Court. That ruling, expected by this summer in a case out of Mississippi, could reverse the justices' nearly 50-year-old opinion that legalized abortion throughout the country.
"Oklahoma Baptists have worked and prayed to see an end to legalized abortion, and we are greatly encouraged to see efforts come together aimed at ending abortion in this state, so that every life is protected and valued," said Todd Fisher, executive director-treasurer of the Baptist General Convention of Oklahoma (BGCO).
RELATED: Anti-Abortion Group Claims It Obtained Remains of 115 Fetuses From DC Clinic
"We will continue to seek to minister to women who find themselves in an unintended or crisis pregnancy by offering tangible help and pointing them to the hope found in Jesus," Fisher told The Baptist Messenger, the BGCO's news journal.
Hannah Daniel, a policy associate for the Ethics & Religious Liberty Commission (ERLC), said, "More and more states are working through what it looks like to save lives and end abortion, and that is what Oklahoma is doing here."
With the Supreme Court set to issue a decision "in the near future, we are hopeful that a favorable ruling will ensure more states can implement a culture of life in their respective legal frameworks," Daniel said in written comments for Baptist Press. "The ERLC, in partnership with our convention of churches, will continue to tirelessly advocate for laws that protect preborn lives, support vulnerable mothers and work towards a day when abortion is both unnecessary and unthinkable."
During a signing ceremony, Stitt said, "I promised Oklahomans that I would sign every pro-life bill that hit my desk."
Oklahomans "overwhelmingly support protecting life in the state of Oklahoma," he said. "We want Oklahoma to be the most pro-life state in the country."
RELATED: Baptist Leaders Grieve Colorado Abortion Rights Law
The law, approved 38-9 in the Senate and 70-14 in the House of Representatives, does not authorize charging a woman in the case of the death of her unborn child. It also does not ban the sale or use of a contraceptive if administered before a woman is determined to be pregnant.
Abortion-rights supporters decried the law. Emily Wales, interim president of Planned Parenthood Great Plains, called it "a very dark day in Oklahoma. We will fight back against these cruel bans in court because people shouldn't have to cross state lines in secret to access care that should be available in their communities."
While Oklahoma and other states have approved various bans on abortion this year, Maryland recently joined the states that have enacted abortion rights legislation.
On April 8, Maryland Gov. Larry Hogan vetoed the Abortion Care Access Act, which mandates $3.5 million in the yearly budget to provide training for the performance of abortions in an effort to make certain there are enough abortion practitioners in the state. The House of Delegates overrode Hogan's veto in a 90-46 vote April 9, and the Senate followed suit by 29-15 the same day.