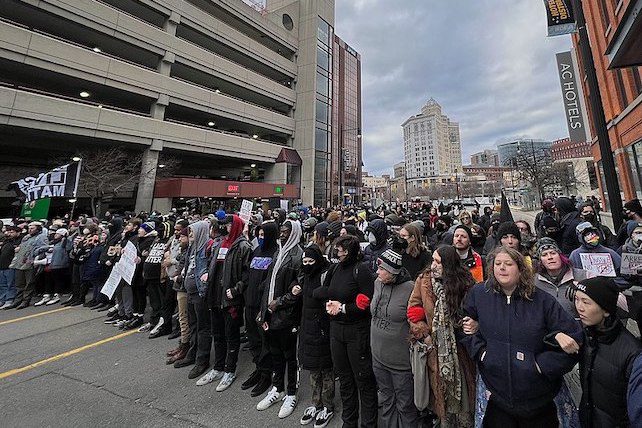 (RNS) — Pastors in Grand Rapids, Michigan, are taking action as the city reels in the aftermath of the fatal shooting of 26-year-old Patrick Lyoya by a Grand Rapids police officer on April 4. Video footage of the shooting was released on Wednesday (April 13), sparking protests outside the city's police department.
Lyoya, who is Black, was pulled over last week for a mismatched license plate. Video footage shows a white officer shooting Lyoya in the head after a brief scuffle. Lyoya and his family arrived from the Democratic Republic of the Congo in 2014 as refugees, and he leaves behind his parents, two young daughters and five siblings.
In the days since Lyoya's death, a group of Black pastors in Grand Rapids, called the Black Clergy Coalition, has been organizing community events to promote dialogue, healing and justice.
"We think that our faith perspective is critical in this hour, to not just discuss policy change, which is necessary, but to also discuss the spiritual and faith dynamic," said Pastor Jathan K. Austin of Bethel Empowerment Church in Grand Rapids. "We must continue to keep our trust in the Father so that people don't lose trust in this time because of the heartache, the pain."
On Sunday (April 10), the group helped organize a forum for community discussion in response to Lyoya's death. The discussion took place at Renaissance Church of God in Christ in Grand Rapids — the location was intentional, according to the church's senior pastor, Bishop Dennis J. McMurray, who noted the wider church's historic role in guiding civil rights movements and said the Black Clergy Coalition is drawing on that legacy.
"It was unreal, the level of cooperative dialogue and understanding that took place," McMurray told Religion News Service. "If these conversations would have started almost anywhere else, the volatility that could be associated to something as devastating as what we're facing could have been a bomb that goes off that would cause so many other issues."
The group also helped host a Thursday press conference at the Renaissance Church of God in Christ and a noon Good Friday service at the church, where they took up a collection for the Lyoya family.
The Rev. Khary Bridgewater, who lives in Grand Rapids, said the city's racial and religious landscape informs how local leaders are responding to Lyoya's death. Grand Rapids has a population that's over 65% white and about 18% Black. It's also the headquarters for the Christian Reformed Church, a small, historically Dutch Reformed denomination, and is home to over 40 CRC churches. According to Bridgewater, leaders shaped by the CRC's reformed theology are often more likely to advocate for change within existing systems.
According to Bridgewater, "It's very hard for most CRC churches to look at a system and say, 'This is wrong, we're going to act as activists to push the system into a different state.' They're more inclined to say, 'Hey, let's sit down and have a conversation with the leaders and try to do things differently.'" Bridgewater says this theology can bump up against the Black church's prophetic tradition of change-making. For this reason, he said, Christian groups in Grand Rapids need to have theological discussions around topics like justice and citizenship.
Nik Smith, a Grand Rapids activist and member of Defund the GRPD, agrees the city's religious culture is shaping local leaders' responses.
"The nonprofits are run by Christian folk who are just waiting for Jesus to come, not realizing not only was he here already, but he's given us things to live by," said Smith. "So we have to be seeking justice actively in our community. We can't just say, let's pray. Prayer is not going to bring Patrick back."