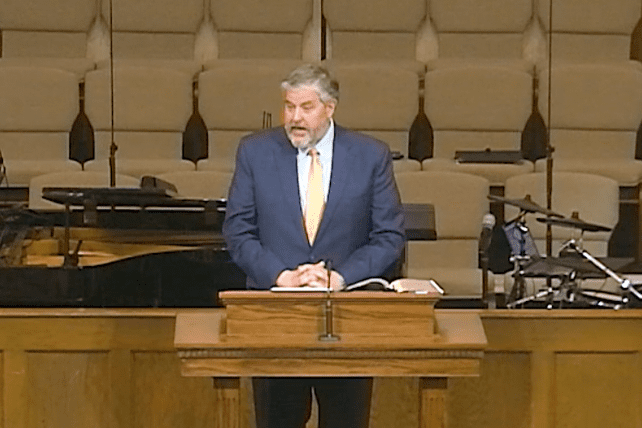 A statement released to the website of First Baptist Church in Lindale, Texas, on Tuesday (April 19) has revealed that senior pastor Tom Buck was the "pastor in another state" who contacted Florida pastor and then SBC presidential candidate Willy Rice about the member of Rice's deacon board who had previously "committed a sexual sin that could also be described as abusive."
On April 1, Rice publicly disclosed that Calvary Church in Clearwater, Florida, had installed the deacon, whom RNS has identified as Jeff Ford, despite being aware of the sexual misconduct he committed before coming to Calvary Church. 
Further, the church had now removed Ford from the deacon board in accordance with a 2021 SBC resolution, which says in part, "Resolved that the messengers to the Southern Baptist Convention believe that any person who has committed sexual abuse is permanently disqualified from holding the office of pastor and that we recommend all affiliated churches apply this standard to all positions of church leadership."
On the same day Rice made that announcement, Buck was alerted to a leaked draft of a story written by his wife Jennifer outlining difficulties in the early years of the couple's marriage. The person in possession of the draft had leaked it to more than one publication in an effort to discredit Tom Buck as an apparent act of retaliation.
Ford's Sexual Misconduct in 2005
In 2005, Ford was a teacher and assistant football coach at J.W. Mitchell High School in New Port Richey, Florida. According to the Tampa Bay Times, Ford began pursuing a romantic relationship with a 17-year-old female student. The relationship eventually turned sexual, but since the "sexual act" did not occur until after the student turned 18, Ford never faced criminal charges. 
RELATED: SBC Leader's Holy Week Plagued by Leaked Story of Wife's Abuse
According to Buck, Ford had attended Riverside Baptist Fellowship in Florida, where Buck was the senior pastor until 2006. When Buck learned what Ford had done, Buck urged him to confess what he had done and went with him to make the report. Buck further advised Ford to be "forthright about what had happened with any church he attended or joined from that day forward."
Ford Comes to Calvary Church
Sometime later, Ford began attending Calvary Church in Clearwater, where Rice served as pastor. According to Rice, Ford was true to his word and openly disclosed his past. As a result, Ford was barred from serving in student and children's programs at Calvary Church but served the church in other ways. Eventually, Ford was ordained as a deacon. 
Ford is the CEO of Man Up and Go, a global non-profit organization aimed at breaking the cycle of generational fatherlessness. Ford also serves on a faith advisory council for Florida governor Ron DeSantis. 
Given Ford's qualifications and track record serving at Calvary Church, the church's leadership did not see him as a predatory figure and thus felt comfortable ordaining him. 
Buck Privately Confronts Rice
When Buck discovered that Ford was a deacon at Calvary Church, he grew concerned that the church's leadership either didn't know about Ford's past or were acting inconsistently with the SBC's resolution about sexual abuse.