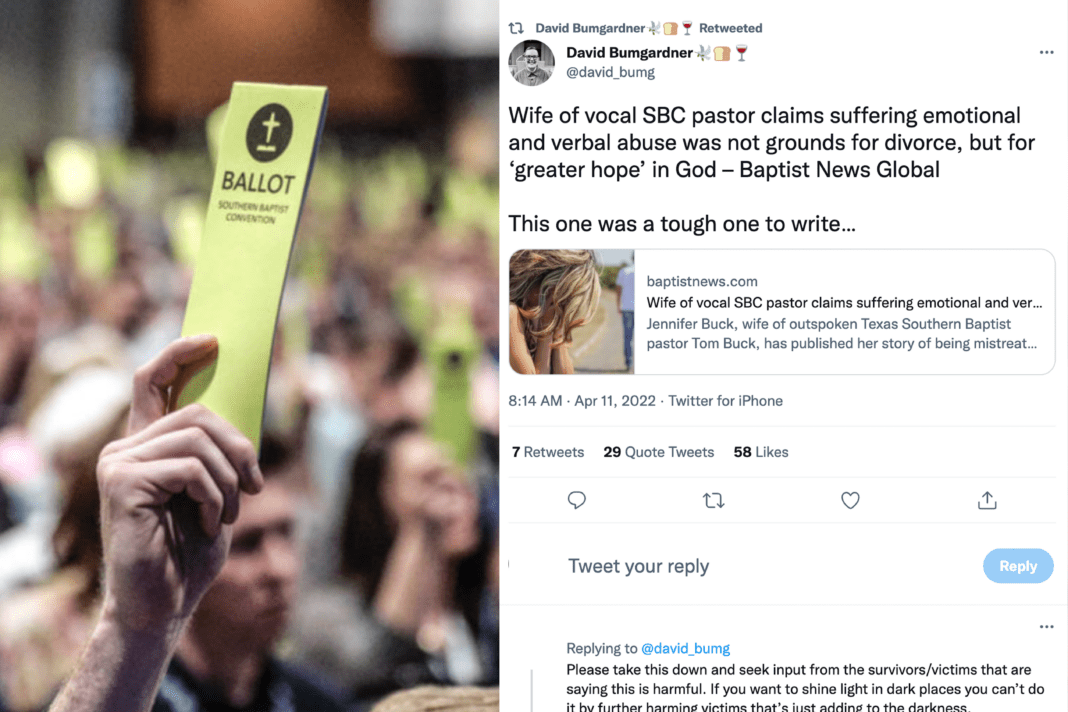 While the western church celebrates Holy Week, which will culminate in Easter on Sunday, leaders within the Southern Baptist Convention are continuing to grapple with stories of abuse and a forthcoming Guidepost Solutions report about whether their Executive Committee mishandled allegations of sexual misconduct. 
As the SBC looks ahead to the release of that report at its annual meeting in June, where it will also elect a new president, stories of victimization have themselves been politicized. 
On April 7, G3 Ministries published an article written by Jennifer Buck, wife of outspoken Texas SBC pastor Tom Buck, wherein she described struggles from the early days of their nearly 35-year marriage, as well as how the couple experienced restoration and healing. 
In the article, Buck described conflicts in the marriage that stemmed from her husband's "anger and controlling nature." She described his behavior in those days as "quick to voice his disapproval in ways that were certainly abusive." Buck explained that the couple's relationship worsened after suffering a miscarriage, and she wasn't sure the marriage would last. 
Buck said that a mentor expressed concern for her and made sure that she was not feeling "physically threatened in any way" but never presented divorce as an option.
Things "came to a head" one day when Buck rested a cold can of soda on her husband's neck as a joke and he responded in anger by slapping her wrist. Buck said that this was a defining moment that frightened them both. Following the incident, the couple sought the wisdom of mentors, and Tom sought to repent of his anger.
"Tom and I are amazed at the reconciliation and restoration God worked in us," Buck said. "Our marriage is certainly not perfect, but none of those ugly days have been repeated."
After the article was published, other leaders were quick to laud Buck's courage in sharing such a personal and vulnerable story in the hopes of encouraging others. 
"A wonderful story of God's powerful grace," said Florida pastor and Founders Ministries president Tom Ascol. "Every real Christian will rejoice in this story & the hope it gives to each of us!"
"A courageous article," tweeted Texas pastor Bart Barber. "Thank you."
On April 11, Baptist News Global (BNG) published a report that painted Buck's article in a different light. 
In that report, David Bumgardner revealed that BNG had come into possession of an earlier draft of Buck's article, which had originally been authored in 2018 in the wake of Paige Patterson's firing from Southwestern Baptist Theological Seminary for mishandling sexual abuse allegations. It was intended to be published pseudonymously. 
The anonymous source leaked the draft via an "untraceable email" account to BNG and other publications, a document that Bumgardner described as vastly different "in content, detail, scope and length" than the finalized article published by G3. An anonymous Twitter account, presumably run by the same source, also harassed Tom Buck online regarding the contents of the draft.
The email and Twitter accounts have since been deactivated. 
Reportedly, the source was seeking to leak the draft in an attempt to discredit Tom Buck, who is an influential if not controversial SBC leader and vocal supporter of Tom Ascol in the SBC presidential election.
Later in the article, Bumgardner also raised the issues of pastoral qualifications and the permissibility of divorce in light of abuse allegations, saying, "One thing that remains unclear is what exactly the majority of churches and messengers in the SBC believe about pastoral qualifications, divorce and their relationship to physical and emotional forms of abuse — beyond sexual abuse."