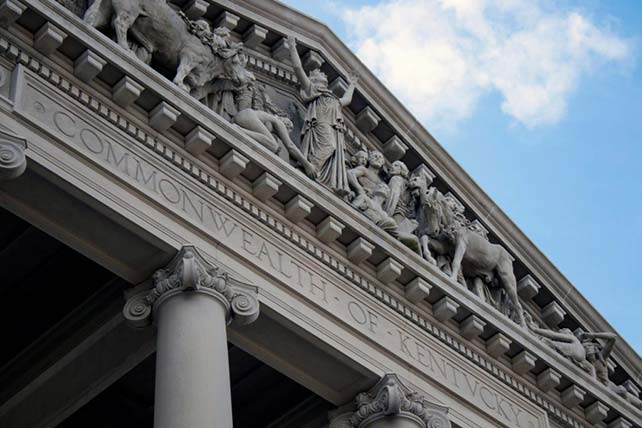 NASHVILLE (BP)—State lawmakers continue to adopt pro-life protections this year in hopes the U.S. Supreme Court will return abortion policy to their jurisdictions in a ruling expected by this summer.
Florida and Kentucky are the latest states to enact abortion prohibitions during legislative sessions that have seen more than 500 pro-life measures introduced in 2022. Those states, which both approved bans on abortion after 15 weeks gestation, joined others that have enacted pro-life laws that include a nearly total prohibition on abortion and bans at different stages of pregnancy.
Various states have taken such actions as the country awaits a decision by the Supreme Court regarding Dobbs v. Jackson Women's Health Organization, a case regarding Mississippi's 15-week abortion prohibition. Many pro-life and abortion-rights advocates believe the justices are likely not only to uphold the law but to reverse the 1973 Roe v. Wade opinion that legalized the procedure nationwide. Such a ruling by the Supreme Court would return abortion policy to the states.
"As states continue to pass laws to protect preborn life, we eagerly await the Supreme Court's decision in the Dobbs case and are hopeful that a culture of life will be established in all states," said Chelsea Sobolik, director of public policy for the Southern Baptist Ethics & Religious Liberty Commission (ERLC).
RELATED: Pro-life Christians Urged To Remain Hopeful at ERLC Event
"We must continue to advocate for laws that protect life, and Christians should simultaneously be working towards a day when abortion is also unthinkable and unnecessary," she said in written comments for Baptist Press.
Denise Burke, senior counsel for Alliance Defending Freedom, told BP, "[T]his has been one of the most consequential pro-life legislative years we have seen in a decade, demonstrating yet again that the vast majority of Americans oppose the Roe regime of unrestricted abortion-on-demand and that our officials are anticipating a significant ruling in Dobbs.
"Our laws should protect all innocent lives because life is a human right," she said in written remarks. "Over 60 million American lives have been lost since Roe was decided in 1973. This devastating loss of innocent life results from refusing to recognize the dignity and worth of every human person."
Burke also said, "Overturning Roe will place demands on all of us – the church, the state and the broader pro-life community — to resource, equip and build the vital institution of the family. Those that have worked to promote the pro-life cause are demonstrating true leadership and dedication to protecting the lives and health of unborn children and their mothers."
Florida Gov. Ron DeSantis signed into law a 15-week abortion ban April 14, a day after Kentucky's legislature overrode a veto by Gov. Andy Beshear of legislation that included prohibitions on abortion after 15 weeks gestation and the mailing of abortion pills. The enactment of Kentucky's new law prompted the state's two licensed abortion providers to close for the time being.
Florida and Kentucky are among nine states that have enacted a total of 33 pro-life laws so far this year, the Guttmacher Institute reported April 15. Another 28 pro-life protections have gained passage by at least one legislative chamber in 11 states, according to Guttmacher. A total of 536 abortion restrictions have gained introduction in 42 states in 2022, according to the report.
Guttmacher is a research and policy organization affiliated with the abortion-rights movement.
Among other pro-life laws enacted this year in addition to those in Florida and Kentucky in preparation for a possible post-Roe era:
— Oklahoma prohibited abortion except to save the life of the mother in a bill signed April 12 by Gov. Kevin Stitt. A person convicted of performing or attempting to perform an abortion may receive a maximum prison sentence of 10 years and/or a fine of as much as $100,000.
RELATED: Pro-Life State Legislators Preparing for Post-Roe Era
— Arizona banned abortion after 15 weeks gestation in legislation signed March 30 by Gov. Doug Ducey.