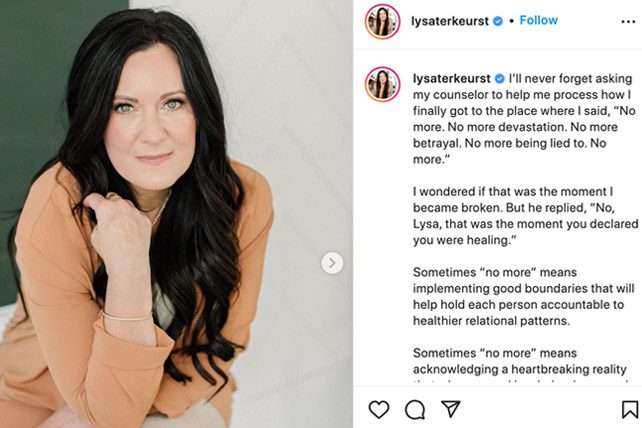 A recent court filing obtained by The Christian Post revealed that Art TerKeurst, estranged husband of author and president of Proverbs 31 Ministries Lysa TerKeurst, allegedly spent over $118,000 on an extramarital affair with a woman whom he met on the website SugarDaddy.com. 
In January 2022, it was announced that the couple was pursuing a divorce. TerKeurst had originally filed for divorce in 2017, 18 months after learning of her husband's infidelity and substance abuse issues. The couple later sought to restore their marriage, renewing their vows in 2018.
However, three years later, TerKeurst announced that her husband had continued to be unfaithful and that she now needed to "accept reality."
RELATED: Lysa TerKeurst: After a Year Like 2020, It's Finally Time to Address Those Relational Issues
"Over the past several years, I have fought really hard to not just save my marriage, but to survive the devastation of what consistent deception of one spouse does to the other," TerKeurst wrote in the announcement. "It's brutal and heart crushing to constantly fear the hurtful choices of someone you love. I've had to learn the hard way there's a big difference between mistakes (which we all make) and chosen patterns of behavior that dishonor God and the biblical covenant of marriage."
According to The Christian Post, a divorce filing revealed that Art TerKeurst had allegedly spent six figures on his extramarital affair, which included the purchase of a "pre-engagement left-hand ring," and paying for the expense of the woman to move from Atlanta, GA to a place near his home in Charlotte, NC.
Ministry Watch reported that in February 2022, Art TerKeurst had filed a response to the petition for divorce, asking for alimony, equitable division of property, and damages.
The filing sought to renege a previous post-nuptial agreement, which he argued was made under duress at a time when he was struggling with suicidal thoughts and was about to enter treatment for alcoholism. According to TerKeurst, he was unable to properly consult with legal counsel before signing the agreement at the behest of friends and family.
Art TerKeurst further argued that the previous post-nuptial agreement was invalidated after the couple decided to renew their vows in 2018. He argued that he "has been a faithful and dutiful spouse" since the signing of the original post-nuptial agreement, in contrast to Lysa TerKeurst's characterization of him, as she alleged in an April motion that he dropped out of the alcohol abuse treatment program and had displayed "narcissistic and sociopathic tendencies" over the years. 
RELATED: Lysa Terkeurst: How to Lead When Your Private Life Is Being Shaken 
In an April Instagram post, Lysa TerKeurst wrote, "I'll never forget asking my counselor to help me process how I finally got to the place where I said, 'No more. No more devastation. No more betrayal. No more being lied to. No more.'"