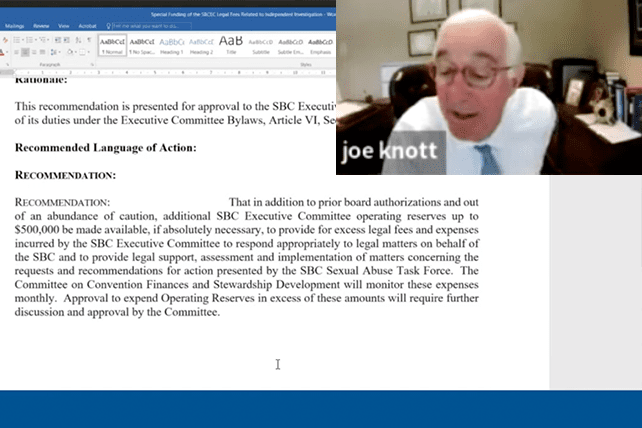 In a special-called meeting of the Southern Baptist Convention's (SBC) Executive Committee (EC), held via Zoom on Thursday, EC member Joe Knott expressed that he is "terrified" at the thought of the SBC implementing policies "to protect children or women," policies he believes will open the SBC up to class action lawsuits that pose an existential threat to the denomination. 
Knott is a lawyer who lives in Raleigh, NC, and has served as a lay leader in his church for more than 30 years. He is also on the steering council for the Conservative Baptist Network, an association of Southern Baptist leaders who believe that the SBC is drifting away from conservative Christian values and desire to "turn the SBC back to the Bible."
In the special-called meeting, the EC financial committee presented budgetary recommendations to be presented to Southern Baptist messengers at the annual meeting in June, particularly with regard to the allocation of resources in response to the recommendations of the Sexual Abuse Taskforce (SATF). 
Following the public release of Guidepost Solutions' report about the EC's handling of sexual abuse allegations over the past two decades, the SATF made a number of recommendations for reform. 
Earlier in the meeting, EC members also voted to ratify a statement of repentance for the failings of the EC outlined in the 288-page Guidepost Solutions report. The motion carried with 92% of the vote, with Knott not only voting the motion down but also requesting that his dissent be recorded in the meeting's minutes.
Toward the end of the meeting, most of which was spent discussing the finer points of budgetary allocations with regard to SATF recommendations, Knott voiced his deep concern with adopting any of the recommendations presented in the Guidepost Solutions report. 
"With all due respect, and I say this very humbly, this entire endeavor is terrifying me. And here's why—I speak as a lawyer now," Knott said. "The funds we've been spending thus far for legal fees have been paying our lawyers, and it's been significant. Lawyers are expensive. But that pales in comparison to paying judgments…When you lose cases and have judgments to pay, you can be talking about hundreds of millions of dollars."
"And everything that we're talking about today with the Taskforce and implementing policies to ensure this and that—I am terrified that we are breaching our longstanding position of being a voluntary association of independent churches," Knott continued. "When we start telling churches that they should do this or do that to protect children or women, and it turns out—which it will—that women and children are still going to be victimized, then someone is going to say, 'You did not do enough.'"
Indicating that his main point of concern was legal exposure, Knott explained, "And when they say that, that is a question of fact, which could support a lawsuit. And not just one lawsuit by one victim but by thousands of victims, if we have not done enough."
"We spend a million dollars, two million dollars, five million dollars, 10 million dollars to try to protect women and children, and I guarantee you women and children are going to be victimized no matter how much we spend," Knott said. "And that is going to make us, potentially, targets of great class action lawsuits, which could be the end of the Southern Baptist Convention."
RELATED: 'There Is Much Before Us to Consider': Tom Ascol, Conservative Baptist Network Respond to Sexual Abuse Report
Knott then argued that the solution to sin in the SBC is missions work and providing theological training for pastors.