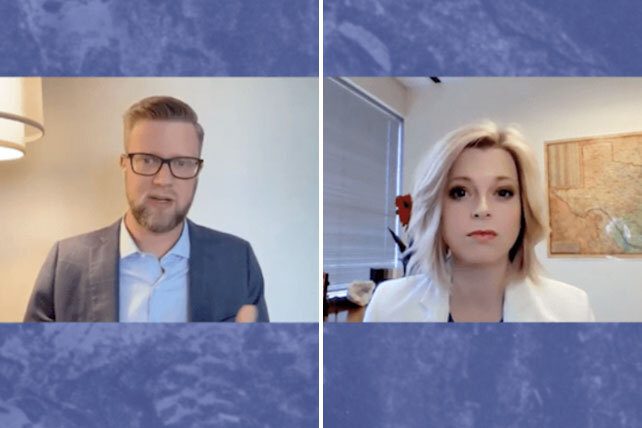 NASHVILLE (BP) – Holding to God's design in creating human beings provides a way forward for Christians during the current crisis regarding sexuality, speakers at a Southern Baptist-sponsored webinar said Tuesday (June 7).
The Ethics & Religious Liberty Commission (ERLC) hosted an online event – "Discipling Your Church for a World in Sexual Crisis" – that featured a pastor, women's ministry leader and seminary professor, all Southern Baptists. The hour-long webinar touched on such issues as gender dysphoria or confusion, transgender identities, sexual abuse, same-sex marriage and cohabitation, while addressing how Christians and churches should respond to these and other questions regarding sexual ethics.
Andrew Walker, associate professor of Christian ethics and apologetics at Southern Baptist Theological Seminary, told the online audience, "If we are going to see ourselves out of this mess, we need to recapture the idea that there are … universal truths consistent with our design as human beings."
This idea presumes "there is actually a composite, fixed human nature, and so, right now, we as Christians are some of the last, few people who will defend that concept of human nature," he said. "And I think that we need to double down and plant some flags and be the champions of the fact that we have a fixed human nature and that it can be actually, objectively known, that who we are isn't actually a mystery."
Katie McCoy, director of women's ministry at the Baptist General Convention of Texas, said issues such as transgender identities demonstrate a conflict in the culture – "that identity is self-created versus identity is God-given."
The culture says the human body "is something that is basically irrelevant to human identity or at least incidental and that our sexuality would then be without purpose or without design that would guide us in how to use it," she said.
According to the Bible, "the body is a distinct aspect of what we are, but what our culture would say is it is a divisible aspect of who we are. It is something that you can divide from your true self and then determine your own identity completely separate from your body," McCoy told the webinar audience.
Dean Inserra, lead pastor of City Church in Tallahassee, Fla., said pastors and churches need to provide clarity on sexuality while being compassionate, including with Christians who struggle with same-sex attraction.
"Let's be clear about what God's design truly is and the greater purpose of it," Inserra said. Marriage is a visible portrait of the union of Christ and His church, he told participants. A sexual relationship is reserved for a man and a woman in a marriage, he said.
"Heterosexuality is not the goal," Inserra said. "Holiness is the goal. And so I want them to be following Jesus. What does that look like? It means they have the same exact standards that I do when it comes to sexuality.
"God's will is your sanctification, that you keep yourself from sexual immorality."
The online discussion followed the May 22 release of a report from Guidepost Solutions' independent investigation that found some of the SBC Executive Committee's leadership mishandled allegations from sexual abuse victims. It also uncovered additional claims of abuse.